15th Game Programming Competition Showcases Student Talent!
Congratulations to winners Stephen Chen and John Benedict Vera!
Professor Richard McKenna announced that students Stephen Chen and John Benedict Vera won Stony Brook University's 15th Annual Game Programming Competition with their game Walk in Shadows.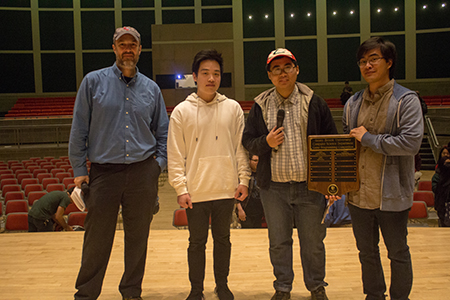 Held on Friday, may 17th 2019 in the Student Activities Center Auditorium and hosted by the Department of Computer Science (CS), 12 gaming finalists participated and showed off the games they created in CS courses CSE 380 and/or CSE 381. Judges, many of whom are alumni of the department, family, and friends attended and had the opportunity to see the student projects in action.
Whether it is OctaTope, Space Force or Hugh Mann Goes Home, each game required that students combine their programming skills with their creative side. 
This event is a unique opportunity for student game developers to work in teams to create original games and then together, enjoy the presentations. By engaging in these projects, students are able to practice and sharpen their programming skills. There was greater attendance and better games this year, than ever before. The event is always open to the public free of charge, so all are invited to attend in May 2020.
    In addition to all around fun night, students had the opportunity to network with many of the judges. A special thank you to the judges for taking time to attend: Mike Pellechia of Applied Visions and founder of Onslaught Studios, Betson Thomas founder and CEO of POW Studios, and Carl Corry an online editor for Newsday.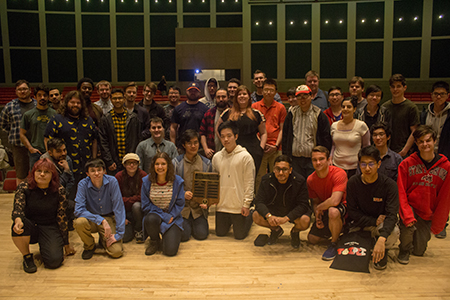 Check out all of the finalists by clicking on these playable Web versions listed under finalists. You can also view game trailers from past years via Prof. McKenna's YouTube Channel.
More details and photos from this year's contest as well as information on past events may be found at the SBU Game Programming Competition homepage.
-Daniel Morgan