Celebrating CS Graduate Student Research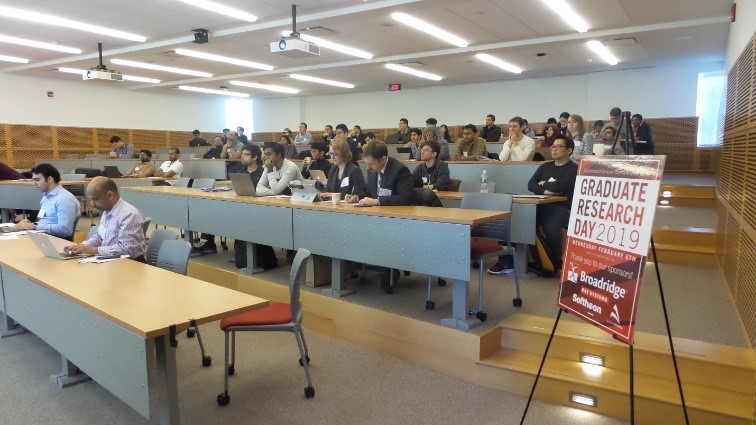 Held on Wednesday February 6, the 2019 Graduate Research Day (GRD) was a chance for graduate students from the Department of Computer Science to showcase their research. Over the winter break, all graduate students were invited to submit a one-page abstract of their current or recent work as well as a final poster illustrating their project. From these submissions, the GRD committee accepted 20 student talks and 22 student posters.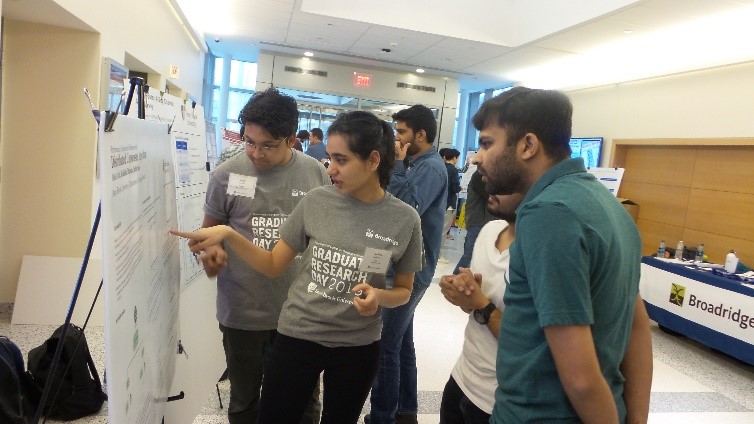 A revival of the Graduate Research Conference which took place several years ago, this year's event was held in the New Computer Science building with sessions hosted in classrooms and breakfast and lunch catered in the atrium. The program for the full-day event included networking for students, faculty, and companies; an industry keynote; a workshop; a faculty Q&A session; and an awards ceremony at the end.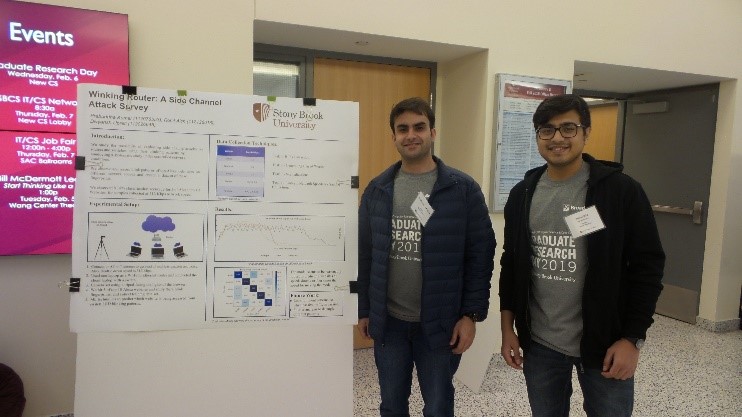 Clearly the day was all about the research being generated by 18+ research labs within the department. Student research spans a diverse array of topics including AI, visual computing, biomedical informatics, cybersecurity, and computational biology.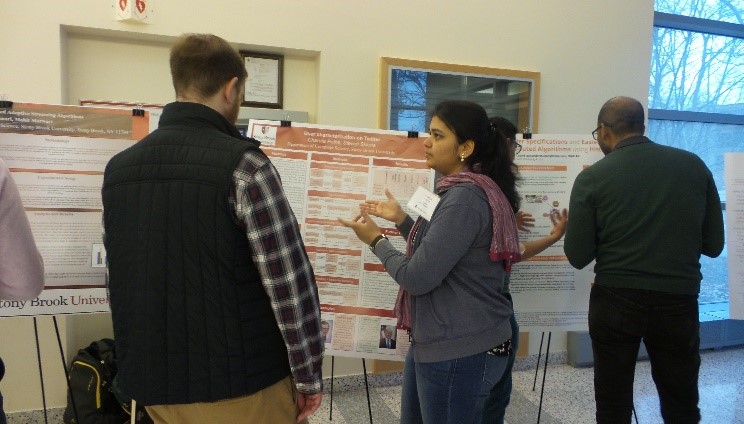 Student talks as well as poster presentations were grouped into these four separate sessions:  NPL/Data Science/ML; Vision/Graphic/HCI/User Experience; Theory/Network/Formal Methods; and Systems/Security.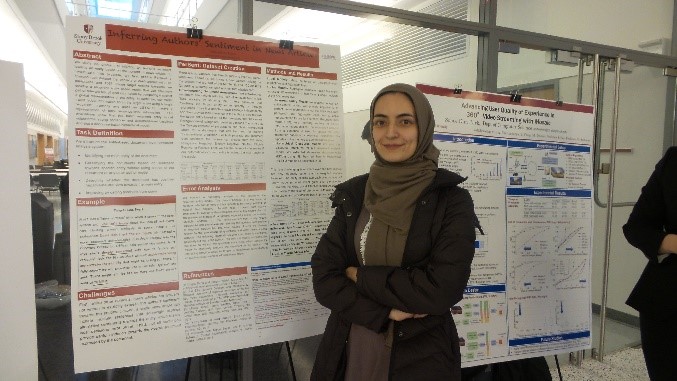 A team of faculty and industry representatives served as judges for the sessions. The professors who acted as judges also answered questions in the anonymous Q&A session. Professors Nick Nikiforakis, Ritwik Banerjee, Steven Skiena, Niranjan Balasubramanian, Minh Hoai Nguyen, Scott Stoller, and Michael Ferdman represented the faculty side. While Rick Bovie from IBM; Steve Krzemienski, Saumin Patel, Maria Adams, Jeremy Tocher, and Ali Raza from Broadridge; Frank Zinghini from AppliedVisions; and John Paul, Pennisi Chuck, and Jeremy Tocher from Softheon represented the industry side.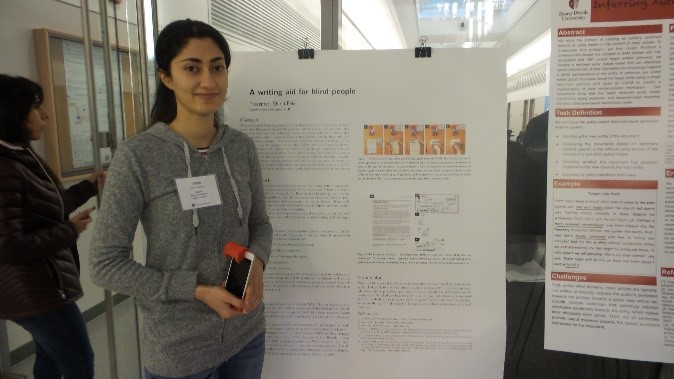 Congratulations to all the students awarded at the end of the ceremony!
Overall Best Talk - Bhavya Ghai
Best Talk in NLP/Data Science/ML - Aria Rezaei
Best Talk in Vision/Graphics/HCI/User Experience - Conor Kelton
Best Talk in Theory/Network/Formal Methods - Richard DeFrancisco
Best Talk in System/Security - Timothy Barron
Participants' Choice for Best Talk - Hao-Tsung Yang
Overall Best Poster Award - Viresh Ranjan
Best Poster in NLP/Data Science/ML - Charuta Pethe
Best Poster in Vision/Graphics/HCI/User Experience - Shirin Feiz
Best Poster in Theory/Network/Formal Methods - Sohee Kim Park
Best Poster in System/Security - Christopher Kane
Broadridge's Special Best Poster Award - Prabuddha Kumar, Rohit Aich, Divyansh Upreti
Foremost a celebration of graduate students and their research, GRD 2019 was also a great opportunity for industry representatives and students to network and learn from each other. For example, the industry keynote and industry workshop, both presented by Broadridge, discussed topics from blockchain to an AI classifier engine program.
The department is appreciative of the event sponsors for making it possible: BAE Systems, Softheon, Broadridge, AppliedVisions, the Stony Brook Career Center and the Stony Brook Graduate Student Organization, the other sponsors of the event. Special acknowledgement to graduate student Mallesham Desari, Professor Amir Rahmati, and staff member Andrew Solar-Greco for taking care of all of the logistics.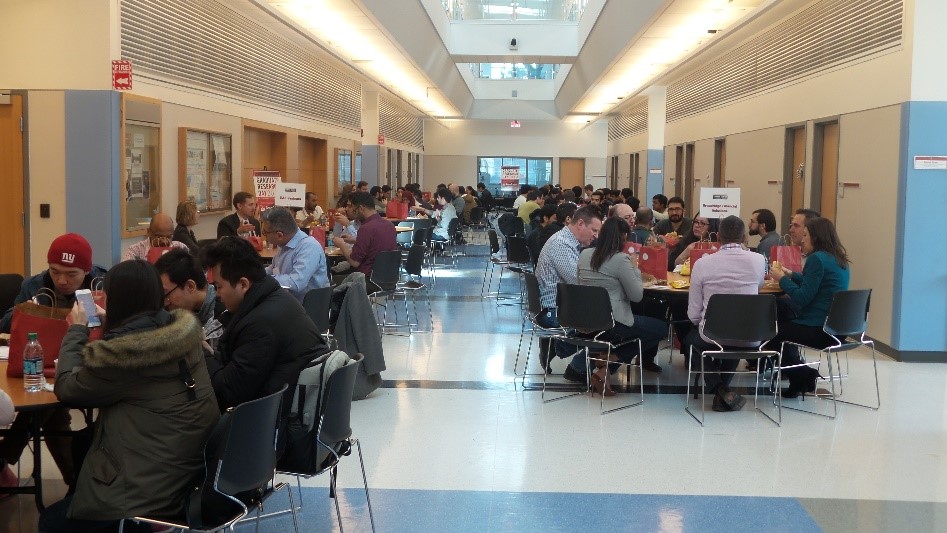 Want to see more photos? Click here: https://www3.cs.stonybrook.edu/~grs/pictures.html
-Tenzin Norzin