Professor Aruna Balasubramanian Receives CRII Funding for Web Page Load Time Research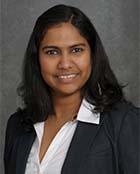 ​The Department of Computer Science at Stony Brook University congratulates Assistant Professor ArunaBalasubramanian on receiving National Science Foundation (NSF) CRII funding for her research into Web Page Load Time (PLT). Her research plan seeks to build a comprehensive web page analysis and prediction system that analyzes, models, and predicts load times and energy consumption on smartphone devices.
Professor Balasubramanian says, "PLT is a critical metric for the mobile ecosystem. This research targets a broad segment of the population, with the ability to affect billions of smartphone users worldwide."
Recognizing that web pages tend to load particularly slowly on mobile devices in comparison to desktop computers, Balasubramanian's efforts will further the scientific community's knowledge on web pages and PLT so that they can potentially be improved. Her system, called WProfX, will provide a service for web developers to improve their page, provide a tool for researchers to analyze pages, and create a platform for web browser and network operators to understand how their optimizations help PLT.
In his letter of support for this research, Ari Kaufman, Department Chair and Distinguished Professor, declared the department's commitment to this initiative. Dr. Kaufman said, "Aruna's research agenda aligns with the department's research goals and it has the ability to improve Internet use for all smartphone users. I am pleased that the project will involve our graduate students so that they have the opportunity to be part of a real-world challenge."       
The newly funded research will advance knowledge in many new ways. By studying the effects of various factors on PLT, such as network connection and the device being used, comprehensive testing can be conducted for the first time, leading to new insight. With this knowledge, the WProfX system will also be able to predict how a change in specific parameters will affect both page load time and energy consumption.
A division of the NSF, CRII stands for Computer Information Science and Engineering or CISE Research Initiation Initiative. The research will begin on June 1, 2016 and conclude on May 31, 2018. The project's budget of almost $200k includes funding for researchers to disseminate their findings at local and global conferences. Professor Balasubramanian is a tenure-track professor in her second year at Stony Brook. The entire department is excited to see the exciting discoveries that her research will yield.