Rising Star Kicks Off 2019 with VMWare Grant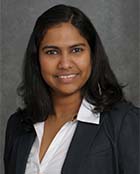 Selected as one of N2Women's Rising Stars in Computer Networking in 2018, Professor Aruna Balasubramanian is awarded VMware Early-Career Faculty Grant.
On the heels of being named a rising star in computer networking, CS professor Aruna Balasubramanian is starting the new year working with students on her recently awarded VMware Early-Career Faculty Grant. According to VMware, "each year, we identify recently-appointed faculty whose research interests and accomplishments seem poised to have significant impact within the industry and academia."
With this award, Balasubramanian now joins the ranks of a selected few professors from institutions such as New York University, the University of Southern California and the University of Toronto. VMware says that the Early-Career Faculty Grant program, which is notably quite selective, "is intended to recognize the next generation of exceptional faculty members." Presented as a gift to the researcher's university, the funding is supports research and to promotes excellence in teaching.
As part of the grant, VMware has offered to host visits and seminars in addition to providing software which Balasubramanian is free to use in her courses and research efforts. Moreover, VMware said that they would gladly consider Stony Brook computer science students for internship positions and are willing to collaborate on projects. This generous award was distributed to Stony Brook University by Vanguard Charitable, which manages the VMware University Research Fund.
Moreover, Professor Balasubramanian was recently selected as one of only 10 researchers from world-class institutions chosen as N2Women's rising stars in computer networking in 2018. Dr. Balasubramanian shared this honor with researchers from Microsoft, and professors from MIT, the University of Cambridge and University College London; just to name a few.
According to Samir Das, chair of the Department of Computer Science (CS), Professor Balasubramanian will serve as the vice general chair of the ACM MobiCom conference in its 25th edition next year. Mobicom is the most prominent conference in mobile computing.
In congratulating her, Das stated, "Aruna is a rising star in the area of mobile systems research. Her work on mobile web, mobile offloading, and mobile energy efficiency has spawned tremendous follow-up research and has won her several awards. Apart from being an active researcher, her organizational efforts and commitment to advancing women in STEM are stellar."
About the Researcher
Aruna Balasubramanian is an Assistant Professor in the Department of Computer Science, which is part of College of Engineering and Applied Sciences at Stony Brook University.  She received her Ph.D from the University of Massachusetts Amherst, where her dissertation won the UMass outstanding dissertation award and was the Sigcomm dissertation award runner up. She works in the area of networked systems. Her current work consists of two threads: (1) significantly improving mobile Web performance and (2) improving the usability and privacy of mobile systems. She is the recipient of a Ubicomp best paper award, a Computing Innovation Fellowship, a Microsoft Graduate Research Fellowship, a Google research award, an Applied Networking Research Prize, and the VMWare Early-Career Faculty Grant. She is passionate about improving the diversity in Computer Science and runs a Girls Who Code Club, founded the WPhD group for Women PhD students at Stony Brook, and is an active member of the N2Women group.
-Daniel Morgan