Spring Hacks: CS Students hack their way through the semester
From the beginning of the year to the end of March 2019, Stony Brook University students have already had multiple opportunities to participate in campus hackathons (day- to multiple day-long events where students come together to solve problems and create projects from scratch).
The Center of Excellence in Wireless and Information Technology (CEWIT) hosted their third annual Hack@CEWIT event, an on-campus hackathon bringing over 150 students, various tech-talks and workshops, and thousands of dollars in industry sponsorship commitments and prizes. The event was hosted from February 15-17, 2019. On March 9, 2019, Women in Computer Science (WiCS) hosted their fourth annual HackHealth event, an on-campus one-day health-themed hackathon.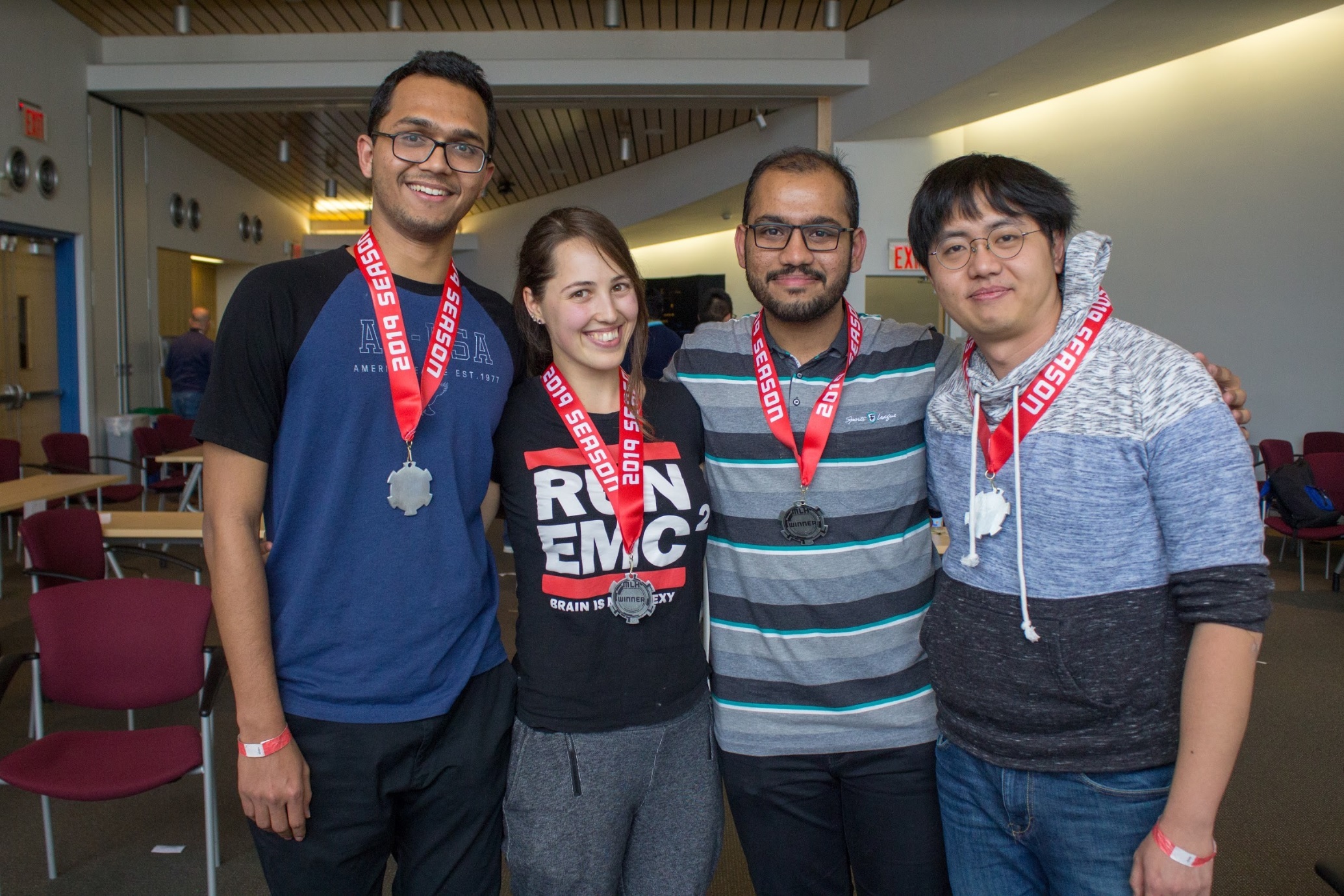 Scenes from Hack CEWIT
Close to 200 students attended Hack@CEWIT . From TwitterBots to actual robots to websites, students were not only able to challenge themselves to create something new, but also learn something new throughout the event.
"It was our best hackathon yet due to the student hackers, creative project submissions, knowable judges, helpful volunteers and generous sponsors. We reached our maximum capacity of registered hackers forcing us to close registration a few weeks before the event. Students traveled from many different states to attend the Hack@CEWIT including Pennsylvania, Rhode Island, and Massachusetts, making this our largest hackathon geographically speaking, so far. We hope for the same turn out next year at the Hack@CEWIT 2020 on President's Day weekend," said Gina Alpi, event and program coordinator at CEWIT and one of the main organizers of the event.
At Hack@CEWIT, awards were given for various different categories from "Top Tier: Best in Show" (awarded to United Sensors of America) to "Most Ambitious: A for Effort" (HoneyPot). Softheon and Major League Hacking (MLH), two of the sponsors of the event, also chose winners including teams Effortless, SwipeMe, Roombalistics, CampNav, and more. Hack@CEWIT 2020 will be held on President's Day weekend in February 2020. To see more about Hack'19@CEWIT: https://www.cewit.org/programs/events/hack.php. For a video of Hack'19@CEWIT: https://www.youtube.com/watch?v=1OoV-cdqSMc&feature=youtu.be
HackHealth, hosted by WiCS, was devoted to being minority- and beginner-friendly. Leading up to HackHealth a one week bootcamp gave all students the opportunity to learn about machine learning, Android Studio, being a woman in tech (from Professor Anita Wasilewska), and more.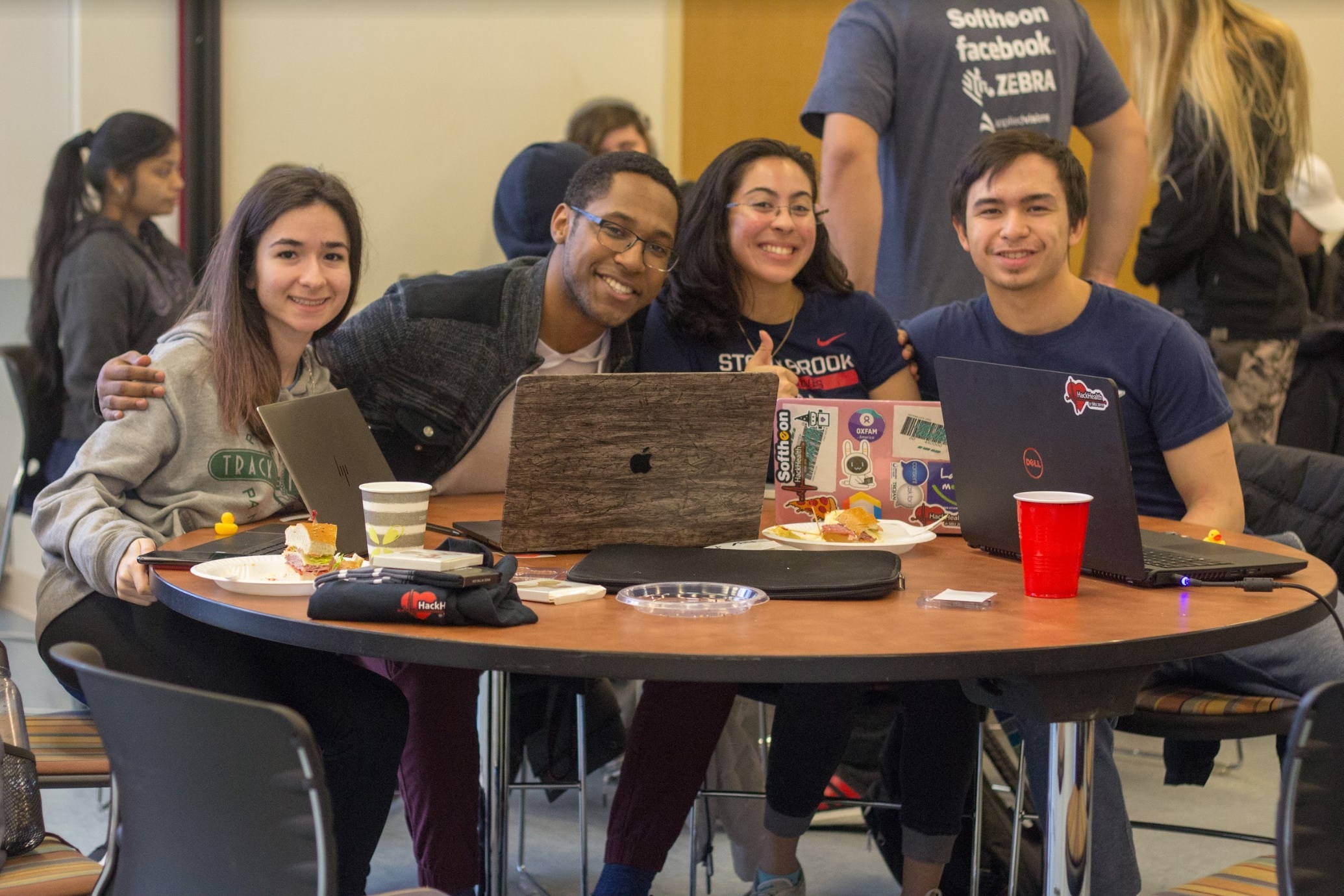 Scenes from HackHealth
"HackHealth was a huge success with 115 attendees, 16 project submissions, and 7 teams winning awards. Of course, we had our hiccups here and there, but volunteers and mentors really helped the event run smoothly. We also had HackHealth shirts for first time this year, which was very exciting, especially for our alumni who were there when HackHealth had started several years ago and was based in Old CS 2120," said Kitty Liu, WiCS president.
Awards were given out for Best Mental Health Hack, Best Nutrition Hack, Best Fitness Hack, and Best Medicine Hack. Winners included teams that used artificial intelligence to diagnose and treat mental illness, created a way check nutrition as you shop, and developed an interactive map to help travelers determine health risks in different areas around the world. To see more about the event, submissions, and winners: https://hack-health-2019.devpost.com/
Both hackathons were fortunate to have the support of several industry sponsors. Sponsors included IBM, Softheon, Google, facebook, Zebra, ApppliedVisions, Twilio, Nutanix, Sticker Giant, and The Recurse Center. At each event a number of Stony Brook CS students took home top prizes. Look for both of these hackathons to take place once again next spring.
-Arianna Chen, CS Student
-Photo credit, Justice Williams