How can I change my Password in Exchange (and Windows Active Directory) via Outlook Web Access (OWA)?
Step1. Click Options  from OWA main screen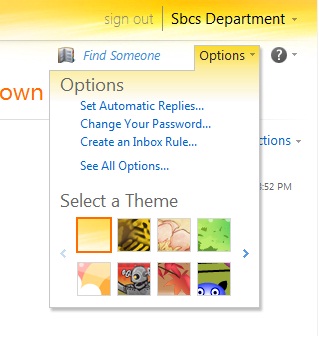 Step2. Click  "Change your Password"
You will have to enter your old password and then replace it with new password
The password needs to meet the following requirements
Minimum 8 characters
Must not contain your name or a dictionary word
Must contain at least 3 of the character set (Capital letters, small letters, numbers, special characters
Please refer to http://www.cs.stonybrook.edu/facilities/faqs/PasswordGuidelines.html for password guidelines.