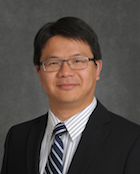 Associate Professor, Radiology, Psychiatry
Email:
chuan.huang

[at]

stonybrook.edu
Interests
Medical Image Reconstruction/Analysis, Quantitative MRI, Simultaneous PET-MRI, Rapid MRI, Objective Assessment of Image Quality, Mathematical Modeling
Biography
Chuan Huang, Ph.D. received his B.S. in Mathematics (Computational and Information Sciences) in 2006 from University of Science and Technology of China (USTC), his PhD in Mathematics (minor in Optical Sciences) in 2012 from The University of Arizona. He conducted his PhD research in the Department of Radiology of The University of Arizona Medical Center on Magnetic Resonance Imaging. He joined the Center for Advanced Medical Imaging Sciences at Massachusetts General Hospital (MGH) and Harvard Medical School (HMS) in 2012 as a Research Fellow. He was later promoted to Assistant in Physics (MGH) and Instructor (HMS) in June 2014. In October 2014, he joined the faculty of Stony Brook University. He is now an Assistant Professor in Research Radiology and Psychiatry. 
Research
Chuan Huang's research interests includes Simultaneous PET/MRI, Medical Imaging Reconstruction/Analysis, Quantitative Methods for Medical Imaging, Rapid MRI. His PhD research focused on image analysis/reconstruction and parametric MRI. He developed a radial FSE technique to obtain the T2 map for the entire brain within 2 minutes of acquisition time. In 2012, Dr. Huang extended his research interest into simultaneous PET/MRI. Dr. Huang is the first author of the first paper on MR microcoil based PET motion correction for head; this work was featured in a press release of the 2013 annual meeting of SNMMI. Dr. Huang had been leading the MR effort of the simultaneous PET/MRI projects during his stay in the Center of Advanced Medical Imaging Sciences at Massachusetts General Hospital. 
Awards
Distinguished Reviewer for (the journal) Magnetic Resonance in Medicine during 2012-2013, ISMRM, 2014; Young Investigator Award Honorable Mention, 2014 SNMMI Annual Meeting, Computer and Instrumentation Council, 2014; Young Investigator Award Honorable Mention, 2013 SNMMI Annual Meeting, Computer and Instrumentation Council, 2013; Magna Cum Laude Award for abstract #106; 2012 ISMRM Annual Meeting, 2012; Magna Cum Laude Award for abstract #362; 2012 ISMRM Annual Meeting, 2012