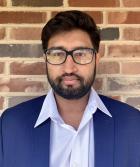 Research Assistant Professor
Department of Computer Science
Room TBA
Stony Brook, NY 11794-2424
Email:
jmitra

[at]

cs.stonybrook.edu
Interests
Mobile Security, Programming Languages, Software Development Methodologies, Cheminformatics
Biography
Joydeep Mitra is a Research Assistant Professor in the Department of Computer Science at Stony Brook University. He received his Ph.D. in Computer Science from Kansas State University. Before pursuing Ph.D., he was a software developer for Cognizant Technology Solutions.
Research
Joydeep Mitra is interested in exploring ways to build secure and robust software systems. He is currently focused on Mobile application (app) security. In this context, his work involves developing benchmarks and measures to empirically evaluate solutions related to Mobile app security along with developing design methodologies that aid in building secure mobile apps. His research has led to the discovery of vulnerabilities in Android, which were publicly acknowledged and fixed by Google.
Apart from his primary interest in secure software engineering, he is also interested in developing tools, techniques, and algorithms that facilitate the use and analysis of data. Consequently, he has worked on Cheminformatics, which deals with use of computers and informational techniques to solve problems related to Chemistry, specifically Crystallography.
Awards
Kansas State Engineering Fellowship Award, Android Security Rewards, Ann and Dave Student Inventor Award.