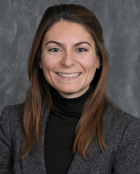 Research Assistant Professor
Department of Computer Science
Stony Brook, NY 11794-2424
Email:
leman

[at]

cs.stonybrook.edu
Interests
Mining and Modeling of Large-scale Real-world Networks, Social Network Analysis, Machine Learning, Graph Mining, Pattern Discovery, Anomaly and Event Detection.
Biography
Leman Akoglu is affiliated with the Carnegie Mellon University's Heinz College of Public Policy and Information Systems. She received her Ph.D. from the Computer Science Department at Carnegie Mellon University in Aug. 2012, and B.S. in Computer Science from Bilkent University. She also worked at IBM T. J. Watson Research Labs and Microsoft Research at Redmond.
Research
Leman Akoglu's current projects include the analysis of large-scale brain networks, finding and visualizing anomalies in temporal data, visualization of communities in massive graphs, fraud detection in social security, vulnerability and resilience in large dynamic graphs, and study and analysis of online question answering sites.
Awards
Leman Akoglu received the IBM First Patent Application Invention Achievement Award in 2012.