Setting up Google Apps in Outlook with Google Apps Sync for Microsoft Outlook®
The Google Apps Sync for Microsoft Outlook® utility creates a new Outlook profile. Any other email or other accounts that you have set up in Microsoft Outlook will exist in their current profiles however they cannot be accessed at the same time as your Google Apps account until you re-add them to this newly created profile.
Download and run the utility from https://tools.google.com/dlpage/gappssync

You will be prompted for administrator credentials to run the setup.

Enter your complete Computer Science Email address 
Check Remember me (don't skip this step). Google Apps Sync needs to remember your password, otherwise it will ask you to sign in each time you start Outlook.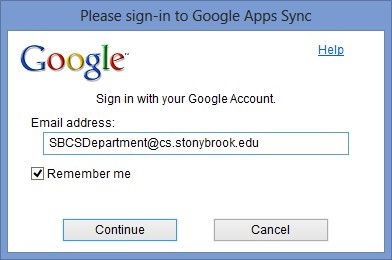 Click Continue.
The default browser will be launched and you'll be asked to sign into your Google Apps account. Enter your full Computer Science email address and your password then click Sign in.
You'll then be asked to allow access for Google Apps Sync for Microsoft Outlook. Click Accept.
When access has been granted, switch to the Google Apps Sync utility and click Create profile, then Start Microsoft Outlook. You may now close the browser tab or window.
A window will open telling you the status of your synchronization.

Determine whether or not you would like to see this window every time you open outlook.
Select Close