Advancing Diversity and Inclusiveness on Campus
Computer Science Professor Aruna Balasubramanian Wins Mid-Career Faculty Diversity Award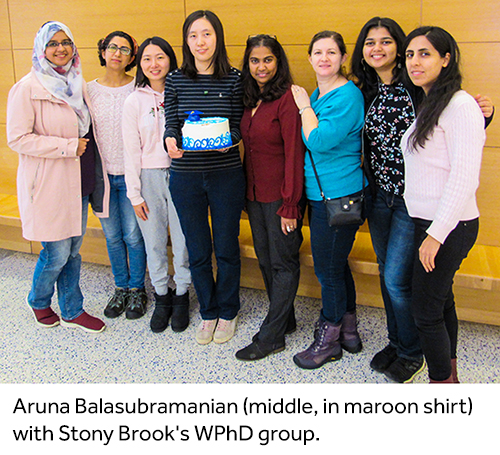 Department of Computer Science Assistant Professor, Aruna Balasubramanian, has won Stony Brook University's Mid-Career Faculty Diversity Award. This $5,000 award, which is financially supported by the Stony Brook University President's Office and Chief Diversity Officer, honors mid-career faculty who have a well-established record of research and/or creative activity, teaching, and service; and who help to progress Stony Brook's goals of a diverse and inclusive campus.
Balasubramanian joined the the faculty in the College of Engineering and Applied Science's Computer Science department in Spring, 2015. Her work focuses on the intersection of networking and systems, with an emphasis on smartphones and wearable devices.
She leads the Computer Science diversity committee, where she has given talks at the Dean's council meeting and the Computer Science Industry Advisory Board. Balasubramanian is also leading National Center for Women & Information Technology (NCWIT)-funded extension services to improve the recruitment and retention of women undergraduates at SBU. In addition, she is the founder of WPhD, which is a group for women PhD students in Computer Science.
"Aruna's commitment to improving the participation of women in our undergraduate computer science programs is inspirational to her students and peers alike," said Samir Das, Chair of the Department of Computer Science. "We are grateful for her leadership in diversity initiatives both within our department and the entire Stony Brook community."
According to Surita Bhatia, Vice Provost for Faculty Affairs, Balasubramanian was selected from  a large pool of strong applicants for the award and a truly impressive level of wonderful work being done by the faculty. Among the other Mid-Career Faculty Diversity Award winners this year are:
Maricedes Acosta Martinez, Physiology and Biophysics
Pablo Calvi, Journalism
Carlos Colosqui, Mechanical Engineering
Crystal Fleming, Sociology
Lori Flores, History
Joseph Pierce, Hispanic Languages and Literature
Thomas Woodson, Technology and Society