Computer Science Faculty Earn Six Out of Ten Early Career Awards
Recently the College of Engineering and Applied Sciences announced that eight faculty from the College received 10 prestigious Early Career Awards, totaling nearly $6 million in funding. The Department of Computer Science is proud that six of the ten awards were given to four faculty associated with the CS department.
During the 2017-2018 academic year, the awards received by computer science faculty include the National Science Foundation (NSF) CAREER, Air Force Office of Scientific Research (AFOSR), and Defense Advanced Research Projects Agency (DARPA).  
The research spans a wide range of topics and will solve challenges in computational biology, cloud computing, software security, autonomous and dynamical systems, and cybersecurity.
Fotis Sotiropoulos, Dean, College of Engineering and Applied Sciences said, "So many prestigious awards in just one year attest to the excellence of our young faculty and serve to demonstrate that the best days of CEAS are yet to come."
Following is a list of 2017-2018 award recipients from the Department of Computer Science:
Anshul Gandhi, Computer Science
$550,000 for Enabling Predictable Performance in Cloud Computing
Robert Patro, Computer Science
$666,000 for A Comprehensive and Lightweight Framework for Transcriptome Analysis
Michalis Polychronakis, Computer Science
$593,000 for Principled and Practical Software Shielding Against Exploits
Romeil Sandhu, Biomedical Informatics & Computer Science Affiliation
$500,000 for Network Geometry for Analyzing Dynamical Systems
U.S. Air Force Office of Scientific Research (AFOSR) Young Investigator Research Program
Romeil Sandhu , Biomedical Informatics & Computer Science Affiliation
$450,000 for Interactive Feedback Control for 2D3D Autonomous Systems
Defense Advanced Research Projects Agency (DARPA) Young Faculty Award (in negotiations)
Michalis Polychronakis, Computer Science
$893,372 for: Compiler-assisted Software Specialization against Vulnerability Exploitation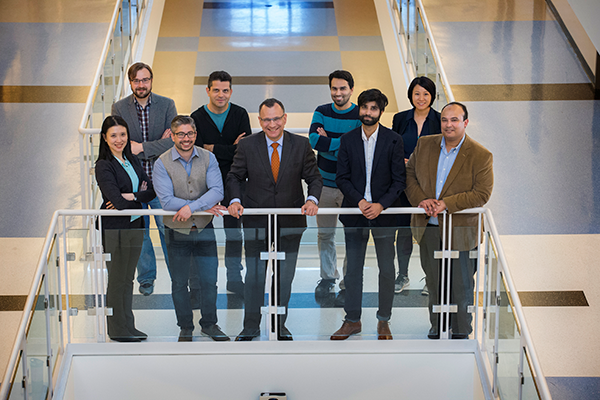 From left to right: Karen Chen-Wiegart, Robert Patro (Computer Science), Jason Trelewicz, Michalis Polychronakis (Computer Science), Fotis Sotiropoulos, Anshul Gandhi (Computer Science), Romeil Sandhu (BMI and Computer Science), Ya Wang, and Sherif Abdelaziz