Computer Science Students Receive Department Honors
Stony Brook, NY, April 25, 2013 
The Department of Computer Science acknowledged the success and hard work of several Computer Science students at our annual Stony Brook Computer Science Honors Program Dinner and Awards Ceremony held on April 16, 2013. In recognition of their academic accomplishments, eight students were presented with the Chairman's Award for Outstanding Academic Performance along with a monetary stipend from the Department Chairman, Arie Kaufman.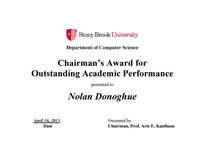 The students who received Chairman's Awards were:
Joshua Belanich
Nicholas Kelman
Kyle O'Connor
B. Roy Kim
Michael James Lapine
Christopher Payne
Nolan Donoghue
Abraham Rabinowitz
Also at the event, Professors Michael Bender and Rob Johnson were on hand to present two scholarship awards to well-deserving Computer Science students. Helen Xu was presented with the Computer Science Honors Program Scholarship and Allison Carmen Ng received the Robert A. Schwartz Scholarship. Congratulations to all!