SBUHacks: An Incubator for Student Innovation
On Friday, September 20th through Saturday the 21st, the 2019 SBUHacks 24-hour hackathon event took place in the Frank Melville Jr., Memorial Library. With more than 375 attendees, the hackathon built on the success of last year's debut event. Students came from across the United States (including Chicago, California and Boston) with students from as far away as Canada, Egypt and India!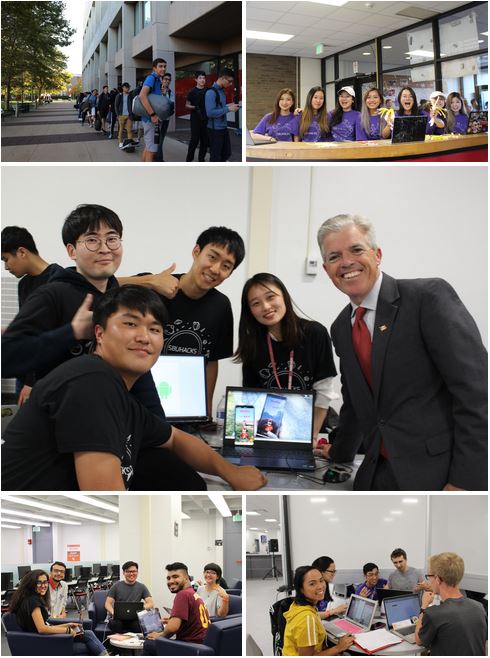 What is a Hackathon Anyway?
The word "hackathon" has become a buzzword in the tech world, but what exactly is a hackathon? A hackathon is an "invention marathon." Anyone who has an interest in technology can attend a hackathon to learn, build and share their creations. The space to hack these projects is a relaxed and welcoming atmosphere where anyone is welcomed. You don't have to be a programmer, and you certainly don't have to be majoring in Computer Science, despite what most people may think. At SBUHacks, students are challenged to expand their knowledge by working on projects they are passionate about. Attendees work with fellow students to create something unforgettable. The best part is that it takes place right here at Stony Brook University!
SBUHacks presented a plethora of challenges for its attendees to solve. With categories for hacks in Security, Artificial Intelligence, Health and even a Funniest Hack, there was something for everyone. There was also a Best Beginner Hack challenge that encouraged newcomers first-time hackers to push their boundaries and try something new and innovative without the restrictions of more difficult hacks/challenges.
"It's invigorating to see our students embracing the hackathon culture, now thriving and  exemplary of our College and the entire Stony Brook community," said Fotis Sotiropoulos, Dean, College of Engineering and Applied Sciences.  "I am immensely grateful for the support of our University libraries and partner companies - and applaud them for their enthusiastic commitment to SBU Hacks, and helping us foster an environment of growth and entrepreneurship here at Stony Brook."
A Special Guest - Suffolk County Executive Steve Bellone
Suffolk County Executive Steve Bellone made a surprise visit and toured the final projects and talked with students about their hacks. "SBUHacks is an outstanding way for our best and brightest to test out their skills and challenge boundaries," he said. "I want to congratulate all the participating students and encourage our students to keep building and sharing their innovative creations."
This year, two of SBUHack's organizers created a Web service that was deployed at SBUHacks for the first time. The service, called HackerMatcher , aims to help hackers find each other to create hackathon teams based on their similar skills and interests. HackerMatcher achieved great success by helping 70 hackers form teams. What started as a hackathon project developed into something useful, and its creators are working hard to make the service bigger and better.
"Classrooms are the places where we gain the base knowledge necessary for us to go out into the world," said Rahul Sondhi, a computer science student and SBUHacks Founder and Chair. "However, events like SBUHacks are where we put the knowledge we cultivated to the test and apply it to actual real life problems and scenarios. No other place like these hackathons watch and guide you while you tackle a problem by using your own instinct, creativity and drive."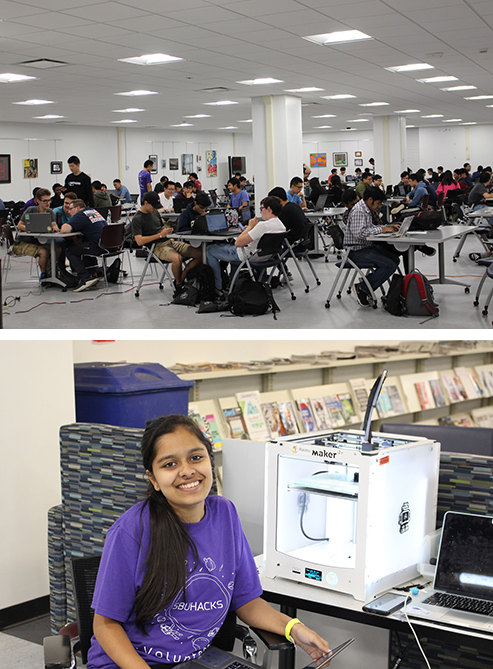 Our Partners
Hackathons are commonly supported by company sponsors and SBUHacks had many important partners, including Softheon, Broadridge, Supply House, BNY Mellon, Applied Visions and Facebook. Besides providing the hackathon with funding, these sponsors hosted tech talks, mentored students, assisted in the preparation for the event, and much more. Students also had the opportunity to network with these great companies, to speak about potential career opportunities in the future. SBUHacks sponsors were also provided with a resume book of all students who opted in for this option while applying for the event!
SBUHacks was also supported by Major League Hacking (MLH). MLH (co-founded by Stony Brook alum, Jonathan Gottfried) is an organization that prides itself in assisting colleges and universities worldwide with setting up hackathons. They provide materials, guidance and even send in their own mentors to help the hackathon organizers to make sure the event goes smoothly.
SWAG and Late Night Munchies
A big part of hackathon culture is the swag and SBUHacks offered a variety of stickers, drawstring bags, notebooks, water bottles and t-shirts. And, no hackathon is complete without Food! Besides breakfast, lunch, dinner, snacks and caffeine, SBUHacks also provided Buffalo Wild Wings as a midnight treat.
"As tomorrow's global citizens, students are coming into higher education with the mentality of 'learning by creating,' some of them coming with sophisticated entrepreneurial ideas. University Libraries, as the academic hub on campus, seeks to foster and encourage our students' creativity and innovativeness with tools, resources, services, events and other activities," said Shafeek Fazal, Interim Dean of University Libraries. "SBUHacks, now an annual popular trending event, is another one of these activities. We are thrilled to have collaborated with all our partners in hosting another successful hackathon and look forward to future ones as we continue to empower our students, of all disciplines, to new levels of discovery."
SBUHacks was a great success due to the support and hard work of numerous people and organizations. SBUHacks' organizers expressed much gratitude to the students, student organizations (Stony Brook Computing Society, Chinese Association at Stony Brook, Theta Tau, CDT, Women in Computer Science, Stony Brook Robotics Team and Kappa Phi Lambda), alumni, faculty, staff, administration (Josh Weil of the Department of Computer Science, the Stony Brook Career Center, Dean Fotis Sotiropoulos and Kelly Dowling of the College of Engineering and Applied Sciences, SBU Libraries and the Alumni Association) and, of course, the sponsors (Softheon, BYN Mellon, Broadridge, Applied Visions, MLH, SupplyHouse.com, Facebook, GitHub and Stickermule). Everyone involved helped this 24-hour hackathon stay on track and run as smoothly as possible.
For a list of winning hacks, click here .
For a complete selection of photos and videos visit SBUHacks 2019 Public Album .
About the Authors:
Rahul Sondhi is a senior pursuing a BS in Computer Science and an MBA in Business Administration. He is the president of the Stony Brook Computing Society and founder of SBUHacks. His interests include startup culture, photography, video games and stocks.
Taha Ahmed is a senior majoring in economics. He is interested in the Computer Science field and has knowledge of languages such as R and STATA. His interests include gaming and hanging out with friends.
Jenny Xu is a junior in the Department of Computer Science. She is the developer, with Anthony Xiang (an Applied Mathematics and Statistics/Computer Science double major), of the HackerMatcher app. Her interests include  artificial intelligence and Web development.