Stony Brook University CS Students Take Home Top Prize at Sifteo Game Jam
Stony Brook, NY, April 16, 2013 
Congratulations to Stony Brook University Computer Science (CS) Ph.D. students Connor Fitzsimons and Ryan Courtney on their recent win at the Sifteo Game Jam competition.
Described as "magical", Sifteo Cubes are an interactive game system that has classic play patterns similar to Legos and building blocks. The event, which took place at NYU-Poly's Game Innovation Lab, started Friday evening and ended with developers presenting their projects on Sunday. Throughout the competition, Siteo's in-house developers used Google Hangout to collaborate with the developer teams.
After 48 intense hours, Fitzsimons, Courtney and teammate Victor Kalogiannis created the winning game, Shuffle War. In Shuffle War, players attack their opponent's cubes with the goal of ambushing the "Queen" cube. Speed, timing, and touch attacks were all part of the game. Each player has a variety of offensive or defensive strategies to use including tilting a cube, locking them in by tapping the screen, or sliding them across a smooth surface.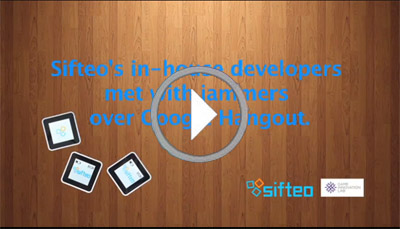 When selecting the Stony Brook team, Daniel Plemmons from Sifteo said judges "..loved that they treated the cubes as objects" and that Shuffle War "creates a great spectator experience". As the team with the "Best Use of Sifteo Cubes," in addition to prizes, Fitzsimons and Courtney were offered the opportunity to interview with Sifteo in San Francisco.