Three CS Students Take Home Catacosinos Fellowships
The Department of Computer Science is thrilled to announce three students have received Catacosinos Fellowships for Excellence in Computer Science.
Computer science (CS) PhD candidates Najmeh Miramirkhani,Prashant Pandey and Syed Billah were recognized for their hard work and dedication with $5,000 from the Catacosinos Fellowship Fund.
"Historically, the Catacosinos Fellowship Fund has been very supportive of computer science students. I am proud that this carefully selected group of students will benefit from that support," Samir Das, chair of the Department of Computer Science, said. "Over time a number of CS students have received Catacosinos funding, and Najmeh Miramirkhani is the first woman in recent years to win this prestigious award."
An example of the Department of Computer Science's goal of making each individual's dreams come true, Miramirkhani is part of the department's PragSec Lab, where she researches cyber crime and web security. ​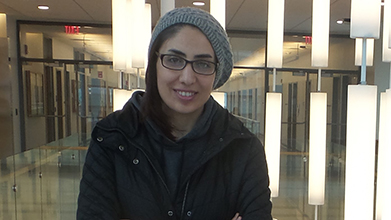 Miramirkhani said, "I am very appreciative for this fellowship. Being a recipient of such an honorable award is encouraging and reminds me that hard work pays off."
Earning her master's degree at Sharif University of Technology before coming to Stony Brook, Miramirkhani's research spans analysis of malicious ecosystems on the web, DNS abuse, as well as malware evasion techniques. As one of her recent works, which received the best paper award from NDSS'17, she performed the first systematic study on a multi-million-dollar scam and revealed the scammers' underlying operations. She is currently working on the security implication of domain name business model where she focused on broad and severe security threats connected to temporary ownership of domain names. As another line of research, she recently proposed a new class of evasion techniques that can be exploited by malware authors to bypass malware analysis systems. 
In a nutshell, her research aims to perform systematic studies of online ecosystems to analyze security threats and develop tools to make the web more secure.
Prashant Pandey came to Stony Brook in 2013 after earning his bachelor's degree from India's University of Pune. He has since worked for both Intel (2014-2015) and Google (2016-2017) as part of their internship programs.
His research focuses on the intersection of systems and algorithms. Pandey works on designing and building theoretically well-founded data structures for large data issues in computational biology, databases and file systems. Currently, Pandey is focused on "building efficient approximate membership query data structures, specifically, counting filters and their applications." He is also working on "finding compact methods to represent large DNA sequencing and transcriptome datasets for large-scale sequence-search and de Bruijn graph traversal and assembly process."
"I am really happy to get the Catacosinos fellowship," he said. "This award further bolsters my trust in the research I am doing and its impact on the field of computer science."
Syed M. Billah's earned his MS from the University of Arkansas and his bachelor's degree from Bangladesh University of Engineering and Technology (BUET). His primary research interests are at the intersection of human-computer interaction (HCI), accessible computing and systems.
In his PhD work, Billah focuses on building technology to promote equity, ubiquity, and openness. Some of his career highlights include: identifying the technical limitations of existing accessibility frameworks in modern operating systems; proposing a cross-platform, ubiquitous accessibility framework; understanding and predicting the lifecycle of assistive technologies; augmenting existing assistive technologies with new input modalities; and designing new assistive technology for which no alternative exists for people with visual impairments.
"I am very much honored to receive the Catacosinos fellowship," Billah said. "I sincerely thank my two advisors IV Ramakrishnan and Donald Porter for their support, and for giving me the freedom to conduct research I care about most. Receiving this fellowship inspires me to continue building technology to compensate for sensory losses."
Stony Brook University's Department of Computer Science is thrilled to say these three individuals have gone far beyond!
About the Fellowship:
The Catacosinos family, by whom the fellowship was established, originally provided the University with an endowment in 1978. The family's support has had a lasting impact on the University. This year's fellows were selected out of fourteen eligible computer science students. Each student was nominated by a faculty member for consideration and they were evaluated by an independent committee based on their research statement, letters of recommendation, resume, and work products. Beyond this fellowship, two additional endowed funds established by the Catacosinos family have supported cancer research and strategic initiatives by the University's President's Office.
-Joseph Wolkin