Three SUNY Empire Innovation Program Professors Join CS and AI Institute
The Stony Brook University Department of Computer Science (CS) welcomed three SUNY Empire Innovation Program (EIP) professors to the faculty in September 2019. Haibin Ling, Michael Ryoo and Zhaozheng Yin are all new to Stony Brook University and join the CS faculty as members of the new Institute for AI-Driven Discovery and Innovation.
"The addition of these SUNY EIP faculty members further strengthen our Department of Computer Science, which is consistently ranked among the top research departments in the U.S.," said Fotis Sotiropoulos, Dean, College of Engineering and Applied Sciences. "With their experience focusing on computer vision, machine learning and robotics, I look forward to their contributions to our AI initiatives, one of three strategic growth areas supported by SUNY EIP funding.."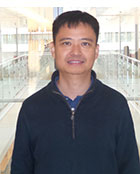 Haibin Ling comes to Stony Brook from Temple University, where he was a faculty member from 2008 to 2019. His research focuses on various vision topics and applications with strong connections to biomedical image analysis, artificial intelligence, human/computer interaction and augmented reality, with a goal of endowing machines with the ability to see, understand and interact with the visual world. Ling received the NSF Career Award in 2014 and a Yahoo Research FREP Award in 2019. He earned a BS and MS from Peking University in 1997 and 2000, respectively, and a PhD from the University of Maryland in 2006.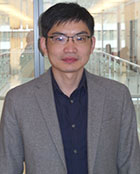 Zhaozheng Yin, who has a joint appointment with the Department of Biomedical Informatics, joins Stony Brook from Missouri University of Science and Technology where he was an Associate Professor, Daniel St. Clair Fellow in the Department of Computer Science, a Dean's Scholar in the College of Engineering and Computing and Director of the Computer Vision and Machine Learning Group. His research interests include biomedical image analysis, computer vision, machine learning, cyber-physical systems and human-robot collaboration. Yin was an NSF Career Award winner in 2014. He earned his PhD in Computer Science and Engineering from Pennsylvania State University in 2009, and received his MS and BS degrees in Electrical and Computer Engineering from the University of Wisconsin-Madison and Automation from Tsinghua University, respectively.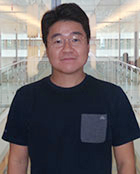 The third new CS member, Michael Ryoo, is a Staff Research Scientist with Google Brain's "Robotics at Google," and formerly an Assistant Professor at Indiana University, Bloomington. He was also previously a staff researcher within the Robotics Section of NASA's Jet Propulsion Laboratory (JPL). His research looks at deep learning and its applications to computer vision and robotics. He works to develop convolutional neural network (CNN) models for semantic understanding of videos and its application to robot perception, robot learning and human-robot interaction. Ryoo received his PhD from the University of Texas at Austin in 2008 and BS from Korea Advanced Institute of Science and Technology (KAIST) in 2004. 
"Haibin, Michael and Zhaozheng are all strong researchers with excellent track records in their fields and we are excited to have them join us at the AI Institute," said Steven Skiena, Distinguished Teaching Professor and Director of the AI Institute. "Adding them to our current faculty creates one of the strongest computer vision groups in the country."
The Empire Innovation Program (SUNY EIP) is a state-funded competitive grant program dedicated to recruiting and retaining world-class faculty at the State University of New York. EIP researchers are leaders in their field, involved in groundbreaking research with a vision of growth for SUNY and their respective fields. Faculty bring experiential research opportunities to life through dynamic partnerships with fellow faculty, researchers and students.