Tony Scarlatos Earns Provost's Outstanding Lecturer Award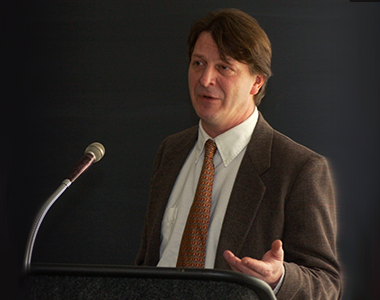 Each year, the Center for Excellence in Learning and Teaching (CELT) at Stony Brook University hosts the Celebration of Teaching in which excellent educators are recognized for their efforts. At this year's CELT celebration in August, Tony Scarlatos will be on hand to accept the Provost's Outstanding Lecturer Award.
Nominated by the Department of Computer Science and his peers across campus, Scarlatos is well-known on campus for leading the department's Multimedia Lab since its creation in 1995.  As a senior lecturer, he teaches a number of undergraduate courses, including CSE/ISE 391 Benevolent Computing.
Scarlatos has a Master's degree in visual communications, and worked as an art director for 12 years before joining Stony Brook. His work received a number of national awards, such as the Federal Design Achievement Award, and was published in American Artist magazine. He has developed software for the NY State Dept. of Education, SUNY Suffolk, Brooklyn College, and Columbia University.
Through his consulting company, Art&Sol, he works with clients such as the Long Island Museum and CA Technologies. His research focuses on human-computer interaction and mobile applications. Scarlatos is also the recipient of a Teaching Excellence Award from the College of Engineering and Applied Sciences and a Stony Brook Spirit Award.