University Presents Two CS Students with Undergraduate Recognition Awards
Stony Brook, NY- May, 2014
After a rigorous review, the University selection committee chose computer science students Eric Engoron and Helen Xu to receive Undergraduate Recognition Awards. Eric and Helen were recognized by the committee, the Dean of the Undergraduate Colleges, and the Office of Student Affairs for their academic accomplishments and hard work in their areas of study.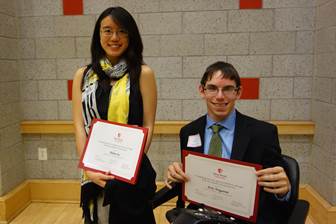 Eric Engoron was nominated by computer science faculty member Anthony Scarlatos. Prof. Scarlatos knew that Eric was the perfect candidate for the award because of his creative spirit and strong work ethic. A resident of Nassau County, Eric's major is Computer Science with a minor in Japanese Studies. Eric is a member of the CS Honors Program and Stony Brook University Scholars Program. His research interest is in Human-Computer Interaction, with an emphasis on assistive technologies. "Eric's stress management system, which utilizes a brain-computer interface, is pioneering. The application will be field tested with the Center for Prevention and Outreach in the fall of 2014, when Eric will be in the Master's program", according to Prof. Scarlatos. Eric currently works as an Undergraduate Research Assistant for the Department's Reality Deck project."
Helen Xu was also presented with the Undergraduate Recognition Award as a result of her nomination by Professor Michael Bender. Helen is majoring in Computer Science and Applied Mathematics. A member of Women in Science and Engineering (WISE) and the CS Honors Program at Stony Brook University, Helen is a resident of Scarsdale, NY who will be working at JP Morgan this summer.  "I nominated Helen for the award because of her consistent and stellar academic performance as well as her enthusiasm for computer science," stated Prof. Bender. 
About the Computer Science Department at Stony Brook University
Established in 1969, the Department of Computer Science at Stony Brook University is consistently ranked among the top 20 computer science departments in the nation by the National Research Council. The department is the largest unit in the College of Engineering and Applied Sciences and is among the largest on the campus. With an annual research expenditure of roughly $8 million, the department is active in many of the major research areas of computer science with specialization in algorithms, computer science education, computer systems, concurrency and verification, intelligent systems, networking, security, and visual computing.