Computing for Social Good
Real –world experience and connections to local non-profits.
When a local domestic violence organization needed a new way to reach teens in potentially abusive relationships, and a crisis intervention hotline wanted to optimize call response, they found willing partners in a unique undergraduate class.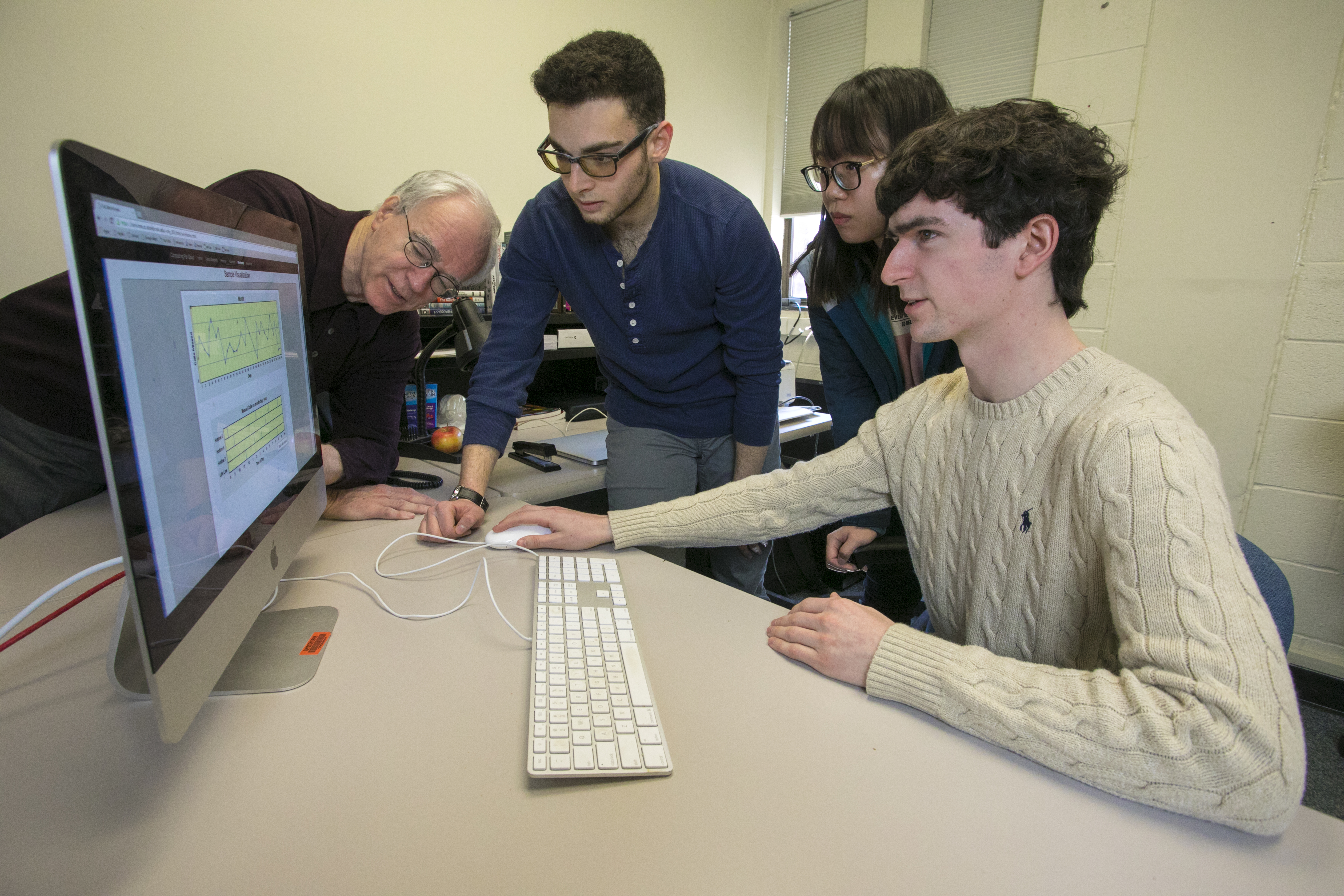 For more than five years, Stony Brook University students quietly roll into the Multimedia Lab for CSE/ISE 391 Benevolent Computing. Students don't realize the amount of real world experience they will gain nor the surprises that professor Tony Scarlatos has in store. Computing for social good has an interesting ring to it but as one Spring '17 student, Yalkin Demirkaya, expressed, "I didn't know what I was getting into. I took the class because it sounded interesting but I was shocked to learn that we were helping actual organizations in need."
Offered by the Department of Computer Science within the College of Engineering and Applied Sciences, the course explores the phenomenon of software applications that leverage social networks and mobile computing to affect positive social outcomes. Appealing to the civic-minded undergraduate has worked well for the longevity of this computer science elective which has attracted close to 200 students, who have completed over 50 technology projects for non-profit clients.
The range of clients and the complexity of projects varies and includes Long Island's top social service and relief providers. The Spring '17 class of undergrads created tech solutions related to user interface, website design, mobile applications, data storage and management, work flow, and gamification. Clients include Island Harvest, L.I. Against Domestic Violence (LIADV), Sunshine Prevention Center, EAC Network, and Response of Suffolk County.
Happy with the student's past accomplishments, Response of Suffolk County is a returning client for Scarlatos' students. Three students are building a software system that utilizes visualization to optimize Response's ability to answer crisis intervention hotline calls and streamlines operator data. Describing his experience working with students as "delightful", Robert Barsky of Response says the relationship works so well not only because services are provided at no cost but because the implementation is easy, and the meetings with students "energizing".
Dr. Carol Carter, Executive Director from the Sunshine Prevention Center agrees. Her experience with the computer science undergrads has been "impressive" and she says it has made her "hopeful for the future". There were eleven students working on three Sunshine projects during the spring semester.  Sunshine Prevention Center, which offers an alternative education and prevention center for people involved in substance abuse or violence, will reap the benefits of this course with a brand new website that includes an online store, and children they serve will now be able to build relationships with Sunshine staff through interactive gaming activities that were formerly offered as hardcopy booklets.
Using their creativity to help people in need, these juniors and seniors are building unique relationships armed with foundational course work to fuel their creativity. Sunshine, Response, and L.I. Domestic Violence have never worked with any other institutions in this capacity. In most cases, students become attached to their clients with many of them agreeing to provide pro-bono assistance after the semester ends. LIADV's project hit particularly close to home to their student team since the end user is almost the same age. For LIADV, a team of three students created an interactive game to enable high school teenagers to recognize when they are immersed in a violent relationship.  LIADV educators, Charlene D. Rogers, Esq.  and Tara Davidson, found students to be "open to coaching" and "innovative" throughout the 10 week project.
According to Scarlatos, the ideas begin with students conducting field visits before preparing an initial design brief that considers the end user, potential cost, and of course the best methodology. Scarlatos says, "The course synthesizes the department's offerings in software engineering, human computer interaction, and ethics while providing a practical focus." Scarlatos has witnessed a lot of successful projects, some of which are initiated by the students themselves, with several of them moving on to a second phase as an independent research assignment. Most memorable for him was a mobile app, Shelterware, which helped the Smithtown Animal Shelter modernize its services.
When calculating the impact of computing for social good, a complicated rubric need not be used. You need only to hear the enthusiasm in the students' voices as they describe their project, and see the appreciative smiles on the clients' faces. Perhaps the educators from LIADV said it best, "Our relationship with Stony Brook is a win-win situation and fantastic way to bring ideas to life."
-Christine Cesaria