A Department Legend: Jack Heller, 1922-2018
Upon news of Jack Heller's passing on October 20, 2018, faculty and staff reflect on his legacy as former department chair, scientist, and friend.
Some call him the "happy chair"  others reflect on his love of numbers and how important he was to building a strong foundation for the Department of Computer Science (CS) at Stony Brook University. Whether it is a longtime colleague or staff member hired by Jack over 30 years ago, it is with a heavy heart that we reflect on Jack's time at Stony Brook University as we learned of his passing at the age of 96.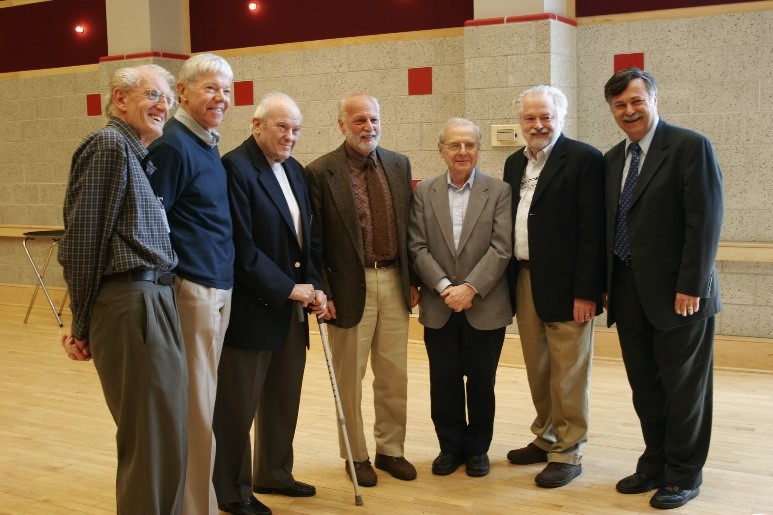 Department chairs gather at 35th anniversary of the department. Jack Heller is third from the left.
Described by Professor Michael Kifer as a "friend to many of us," Jack served as the third department chair from 1977-1984. Taking the helm of a newly established department, in search of establishing itself as a leader on and off campus could not have been an easy task. By all accounts, Jack faced this challenge with integrity, a smile, and an abundance of energy. According to Professor Scott Smolka, he played a "crucial role in expanding CS faculty and making CS one of the most important departments on campus."
In the beginning, Jack worked to recruit good people and supported them when they came, according to David Warren, professor and CS chair from 1996-1999. "He definitely had a profound influence on the early stages of our department's development," says Warren.  
Long time staff member Betty Knittweis remembers "Dr. Heller" well. "Dr. Heller would invite everyone (faculty, staff, and students) to his home every Friday to celebrate the end of another great week. Back then we only had about 15 faculty, 35 graduate and 100 undergraduate students and most of us would go and crowd into his living room." The crowd at his house would have lively discussions about prime numbers, theater, and of course computers, while the classical music played.  His wife Myra, who passed away only 13 days before him, would be by his side at each "happy hour" and the annual summer gathering at Sunken Meadow Park where Jack could share his love of nature with everyone.  
"I remember a soccer game we played at a department picnic soon after I had arrived at Stony Brook," says Warren, "I inadvertently fouled Jack and knocked him to the ground.  I was afraid I'd hurt the 'old man' but he immediately popped back up, smiling, and ran on after the ball.  He was a presence."
Jack's research interests are officially listed on his faculty page as database systems, office automation, and visualization. Interestingly, as professor and current chair Samir Das points out, Jack's early research involved museums. He led early work on computerization of museum records. In 1965 while at New York University's Institute for Computer Research in the Humanities (ICRH) he worked with Dag Hammarskjold Library in New York City to create a suite of programs called General Retrieval and Information Processor for Humanities Oriented Studies (GRIPHOS), which was at the forefront of information retrieval. He went on to complete projects for the Metropolitan Museum of Art with GRIPHOS being used by the Museum Computer Network as a shared museum "data-bank."  Still today, according to Tony Scarlatos, "Jack's work with cataloging historical artifacts makes a great story for the CSE 301 History of Computing class!"
Several years later, in 1969, Jack took a leap of faith and left New York University to join Stony Brook and GRIPHOS continued to serve as centralized approach for the consortium of museums until 1979.
"Jack arrived here in 1970 at the time the Department of Computer Science was first formed.  It was staffed by a small group of professors drawn from the Electrical Engineering, Physics and Applied Analysis departments and was given a small Digital Equipment Corporation computer, an even smaller budget, a lot of chalk to teach with and the benign neglect of the administration.  The Department existed that way for several years until Jack took over as chairman and spearheaded a revolution which culminated in a $5M+ award from the NSF. This was the first award over $1M for the department which helped to transform the department. He had the vision to see what needed to be done, the know-how to formulate a plan, and the energy to make sure that every detail of that plan was executed.  It is no exaggeration to say that in a few years he shepherded a department that was a sleepy backwater to a position that had national recognition," says Art Bernstein, professor and former chair of CS. 
Active for many years after leaving Stony Brook Jack kept in touch with the faculty and former students from the department he loved. Professor Steve Skiena's most vivid memory of him was after Jack and Myra moved to Manhattan. Skiena remembers, "They were very active, and I seemed to run into them everywhere. On at least two occasions I discovered him at the Museum of Modern Art (MOMA) standing in front of Mondrian's Broadway Boogie Woogie. I always think of him whenever I see that painting."
Last month Samir Das had the benefit of visiting Jack in Massachusetts. "As the current chair of the department, Jack inspired me during that visit and helped me to understand its rich history. Although so many years have passed, his passion for Stony Brook was still strong. I am deeply saddened to hear of his passing and I know his impact will last forever."
In addition to a family four children, nine grandchildren and 14 great grandchildren*, Dr. Heller leaves behind a family of computer scientists, staff, and students who smile when they say his name or think of happy hour at the Heller house. Perhaps Kathy Germana put it best. When she reflected on being hired by him 36 years ago she said, "He was engaging, clearly brilliant, and had a kindness about him that was genuine.  Working for this dynamic leader is one of the highlights of my time in CS.  I am thankful to have known him."  
Aren't we all? 
Left to right: A. Bernstein, I. Nassi '74 PhD, J. Heller, D. Smith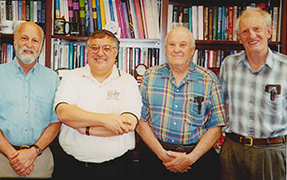 *At the family's request donations can be made in his name to The Actors Fund in honor of his love of theater. 
Department Reflections in Full 
 (To be included, email your memories of Jack Heller to Christine@cs.stonybrook.edu)
Jack was chair from 1977-1984 and played a crucial role in expanding the CS faculty, and making CS one of the most important departments on campus.  He thrived in the role and the department thrived along with him.  He was also just a really nice guy. -Scott Smolka
_______________________________________
Jack was indeed a nice guy who would talk your ear off if you let him, and I let him.   I arrived four years after his time as chair, but it was always clear he was considered the guy who had made the department what it was, by force of personality.
My most vivid memories of him happen to come after his retirement.  He and Myra moved into Manhattan.  They were very active, and I seemed to run into them everywhere.   In particular, on at least two occasions I discovered him at the Museum of Modern Art (MOMA) standing in front of Mondrian's Broadway Boogie Woogie.    I always think of him whenever I see that painting. –Steve Skiena
_____________________________________ 
I was very saddened to hear of Jack's passing.  He definitely had a profound influence on the early stages of our department's development.  He worked to recruit good people and supported them when they came.  I remember him fighting hard for salary increases in the early 80's for those of us who got caught in a salary "inversion," where new hires got higher salaries than those of us who had come earlier.  I also remember a soccer game we played at a department picnic soon after I had arrived at Stony Brook.  I inadvertently fouled him and knocked him to the ground.  I was afraid I'd hurt the "old man."  He immediately popped back up, smiling, and ran on after the ball.  He was a presence.
-David Warren
____________________________________
I was extremely saddened when I heard about the passing of Jack Heller. Jack was not only my colleague, he was my friend. He was instrumental in inviting me to visit Stony Brook in 1984 and as a result I joined the department a year later. More importantly, Jack was my role model as chair. His accomplishments as chair in early years of the department as well as his continuous stream of ideas during my tenure as chair of the department from 1999-2017, have guided me all along. May his memory give us strength to excel even further as a top department. -Arie E. Kaufman
____________________________________
In his last year as a chairman, Jack hired six faculty members, me included. In a highly unusual move, he offered several new faculty to stay in his house until they can find a place to live. I and my family stayed with him for close to three weeks! We all remember Jack and Myra as the most welcoming couple. Years later, when Jack retired, we became neighbors and lived practically on the same street. My little children used to just walk over to have a chat with Jack and Myra and now, as adults, they still remember them with fondness. - Michael Kifer