Prof. Leman Akoglu Receives ARO Young Investigator Award
Stony Brook, NY- December, 2013
Professor Leman Akoglu was selected to receive the Department of the Army, Army Research Office (ARO) Young Investigator Award for her project, Anomaly Detection and Description in Complex Dynamic Networks.
The ARO's Young Investigator Program identifies and supports academic scientists who show exceptional promise for creative research. The Department of the Army's research program attracts outstanding faculty members from institutions of higher learning and encourages stellar teaching and research through funding support.
In the proposal submitted to ARO in August 2013, Dr. Akoglu detailed the sheer volume of complex, large-scale dynamic networks that exist and how it is critical that these networks are resilient to threats and cyber attacks. With the overall research goal of developing scalable, real-time algorithms for event detection and graph manipulation that focuses on description and visualization, Akoglu's research focuses on three main areas: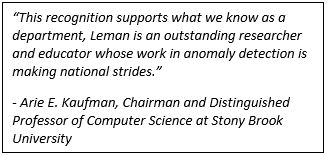 1) Event detection and characterization in highly dynamic networks, 
    2) Measuring and manipulating network robustness, and 
    3) Anomaly detection in heterogeneous networks.
Dr. Akoglu received her PhD from Carnegie Mellon University in 2012 and currently leads the DATA Lab http://www.cs.stonybrook.edu/~datalab/ for the Department of Computer Science at Stony Brook University. In addition to the ARO Young Investigator Award, Akoglu has received the IBM First Patent Application Invention Achievement Award (2012), the Facebook Grace Hopper Scholarship (2010), and she was ranked second among 150 students at Bilkent University, where she graduated with a B.S. in Computer Science.
To learn more about Professor Akoglu's research, visit http://www.cs.stonybrook.edu/~leman/.
About Computer Science Department at Stony Brook University 
The Department of Computer Science at SBU, the flagship institution in the State University of New York system, is ranked among the top 20 computer science departments in the nation by the National Research Council. Interdisciplinary collaboration and research recognition elevated the Department to be the largest and strongest unit at Stony Brook University. The Department boasts internationally renowned faculty who have made significant contributions in visual computing, networking, computer systems, cybersecurity, algorithms, verification, and intelligent computing.