Scarlatos Recognized with CEAS Excellence in Teaching Award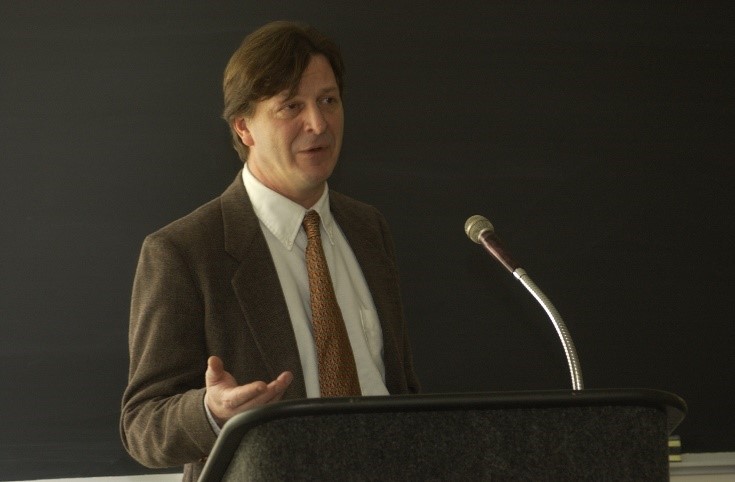 At the 2018 State of the College Address, Professor Tony Scarlatos was recognized for his innovation inside and outside the classroom with the 2018 Excellence in Teaching Award.
A faculty member of the Department of Computer Science and College of Engineering and Applied Sciences for 23 years, Scarlatos is a lecturer and director of the Center for Visual Computing Multimedia Lab. 
Among his many credits, Scarlatos has pioneered a benevolent computing course in which students partner with local nonprofits to design and develop tech solutions. Often times, these nonprofits don't have the funding to hire outside firms so the benevolent computing class projects are a win-win for both the client and the student. 
Students agree that CSE 391 Benevolent Computing is successful because of Scarlatos. An undergraduate student recently commented about the class that "Scarlatos is very helpful as a professor" and that he learned "fantastic technologies." 
As Fotis Sotiropoulous dean of the College mentioned in his address, "Tony's problem-based learning approach has enabled students to make an impact on the Stony Brook community and beyond."  Through his CSE 391 course, Scarlatos has been instrumental in recruiting and helping 20+ non-profits including Island Harvest, Eastern Suffolk BOCES, Cleary School for the Deaf, Response of Suffolk County, the Long Island Museum, and the Sunshine Prevention Center. 
This impact can also be felt in many of the other courses taught by Scarlatos. In 23 years of teaching it is estimated that he has taught more than 2000 students in courses such as History of Computing, Ethics in Technology, Human-Computer Interaction, and User Interface Development. 
In addition to his teaching workload, Scarlatos has been the go-to person for a number of conferences (especially URECA), research projects, and campus initiatives. Learn more about the work he and his students are doing with Stony Brook Athletics to develop Wolfiemetrics, a data visualization application to track and manage strength and conditioning data.