How to Install the Konica Minolta Color C554E Printers on Macintosh OS X
1. Install the driver 
You can access the driver by either navigating to the following website: https://onyxweb.mykonicaminolta.com/OneStopProductSupport?appMode=public&productId=1622&categoryId=1&subCategoryId=ft0 or by connecting to a department share by using the following instructions.
  1A. Open Finder, Click Go and click Connect to Server
  1B. Next to Server Address, enter "smb://printserv01.cs.stonybrook.edu/drivers" and click on Connect.​
  1C. You will be asked for credentials and will need your Windows/Gmail Username in the following format: "cs\username" and password. You can save your credentials to your keychain for later use.
  1D. Click on the KMC554E Folder and then click on the OSX Driver Folder and Choose the OSX version that you are using.
  1E. Copy the A4 and Letter package to your local machine and install.
2. Open System Preferences and click on Printers and Scanners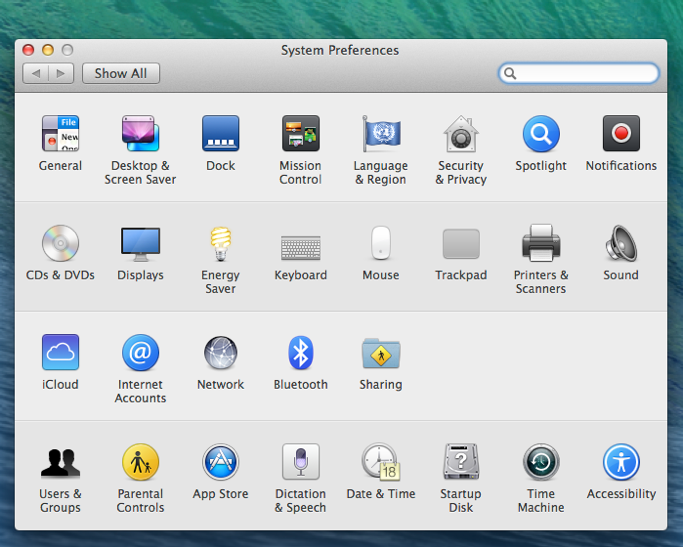 3. Click on the + button to add a printer.  ​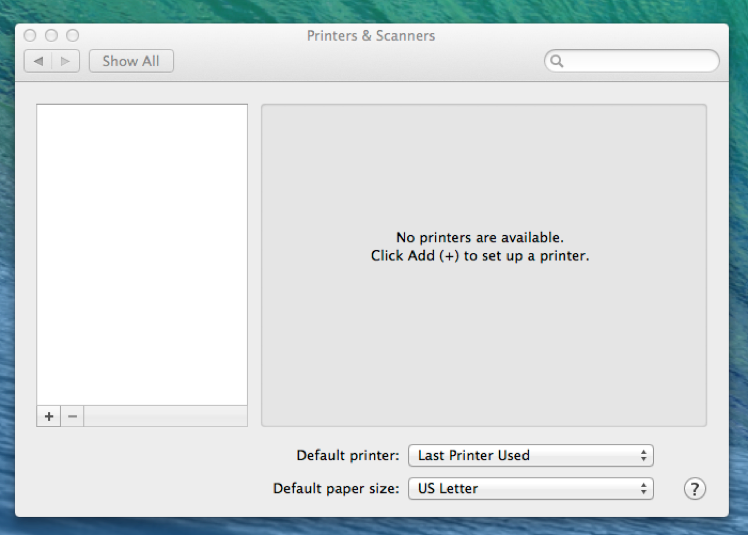 4. Add the Advanced Icon to your toolbar if it does not already exist.
  4a. Press the Control key and Click empty gray space on the toolbar.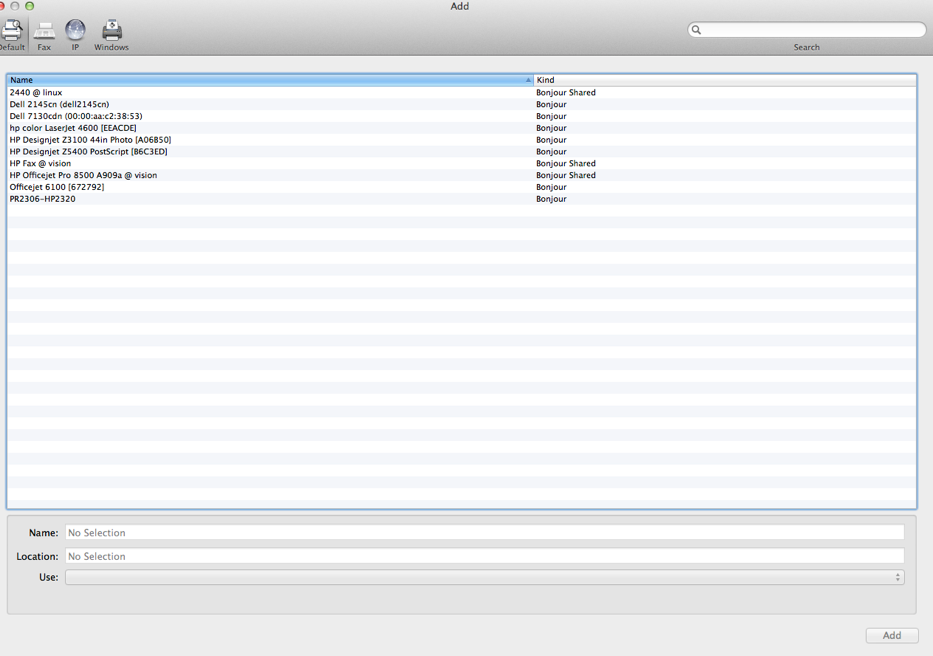 4b. Click Customize Toolbar.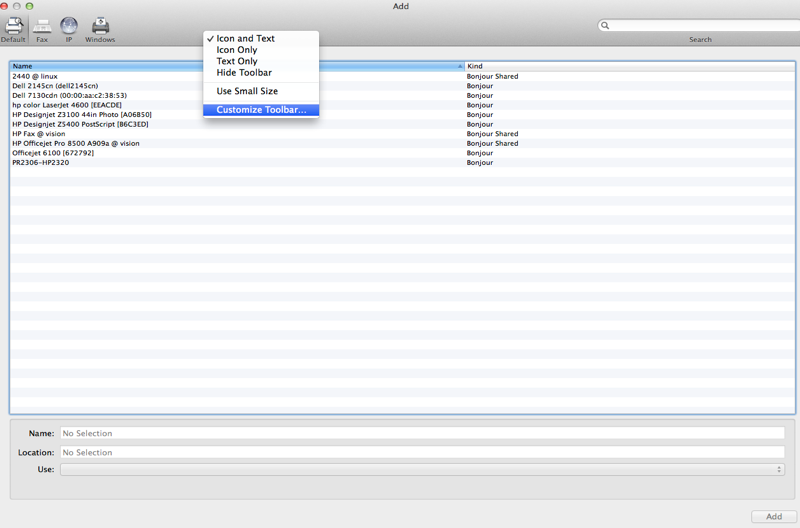 4c. Press the Control key and click on the Advanced button. Select Add "Advanced". Click on Done.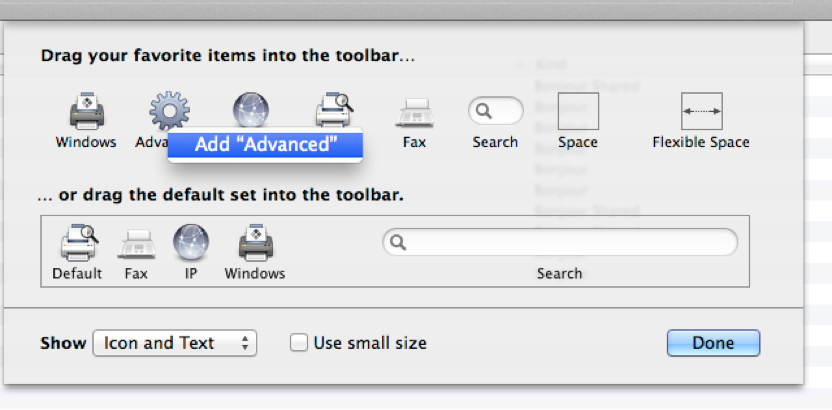 5. Click Advanced. Make sure the Type is "Windows printer via spoolss" and the URL is set to either "smb://printserv01.cs.stonybrook.edu/PR254-KMC554E" for room 254 or "smb://printserv01.cs.stonybrook.edu/PR203A-KMC554E" for room 203A. Enter the appropriate Name that you wish to call the printer. Click Choose Driver when done.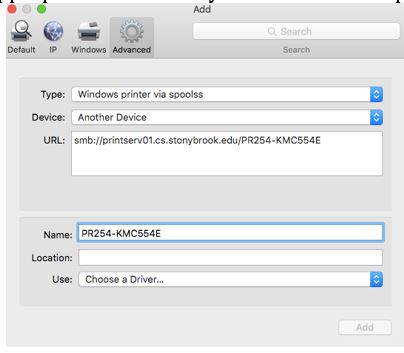 6. Click on Select Software.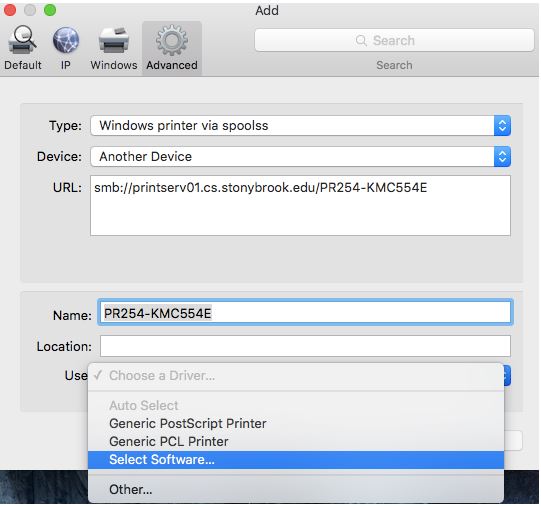 7. Select the Konica Minolta C554e PS driver that was installed in step 1. Click Add. If prompted for credentials enter your Windows/Gmail credentials (cs\username and password). You can save to your keychain so you will not get prompted again.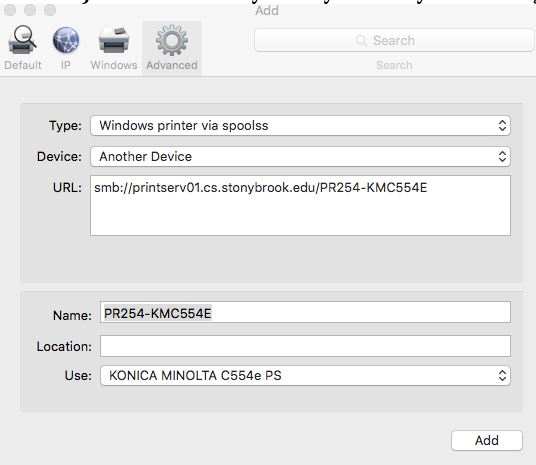 8. Select the drop down box for Finisher and select FS-535. Select the drop down box for Punch Unit and select PK-521 (2/3 Hole). Click Ok to complete the Installation.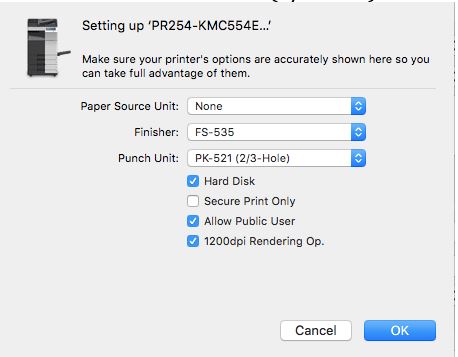 Note: You can use the following printer names to connect to any printer in the CS department using this method.
//printserv01.cs.stonybrook.edu/PR142-KM754E
//printserv01.cs.stonybrook.edu/PR203A-KMC554E
//printserv01.cs.stonybrook.edu/PR254-KMC554E