September 13 - CS Job & Internship Fair is Set!
The IT/Computer Science Job and Internship Fair is set for Thursday, September 13 from 12n-4p.
Last year over 80 employers from around the country participated and this year we expect even more interest in recruiting CS students. To meet the demand, the event is held in both the Student Activities Center and the New Computer Science building. 
Held each semester, this event is for students and alumni seeking a full-time job, internship, co-op or part-time experience in the field of Information Technology (i.e. Software Engineering, Network Administration, Web Development, etc.).  The job fair is an opportunity for students to present themselves professionally to a potential employer, while showcasing your communication skills. The keys to a successful job fair experience are preparation and follow up. Here is a checklist to help you get prepared:
Research the list of participating employers through Handshake
Attend the one of the Career Center's meet up or workshops. Learn more here: https://www.stonybrook.edu/career-center/                                                                
Get your resume reviewed - log into your Handshake account and click Request Appointment 
Prepare your 30 second introduction
Make sure you have a professional attire ready and copies of your resume!
Don't forget to ask for business cards at the job fair so you can follow up with thank-you notes!
CS Students should also plan on attending the WiCS and SBCS Networking Mixer with companies before the fair. More details can be found here: http://sbcs.io/
If you are a student please make sure that you have a Handshake account. If you are an employer who wants to recruit computer science and information systems students, please contact the Career Center at Stony Brook for registration details.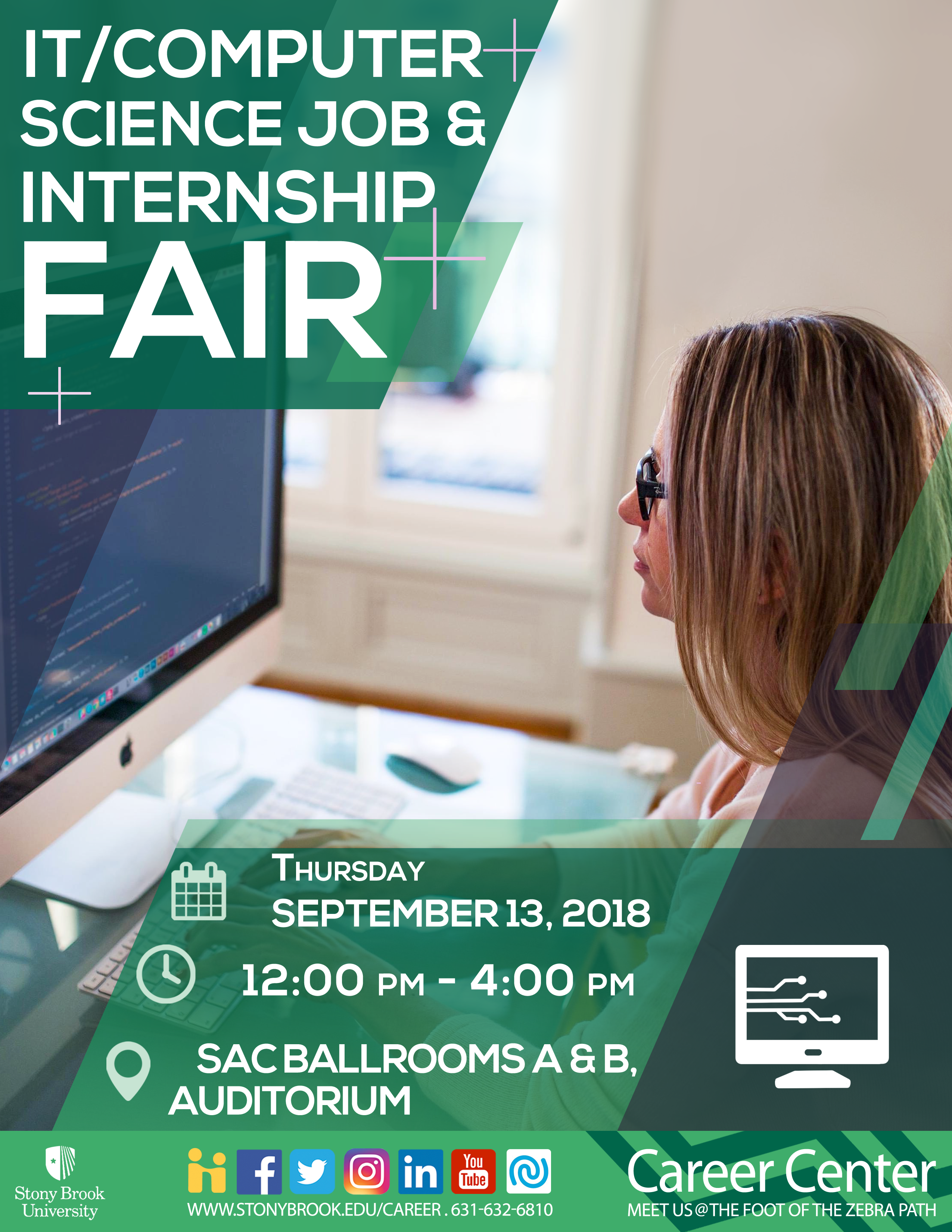 ​