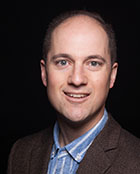 Adjunct Associate Professor
Computer Science Department
Stony Brook University
Stony Brook, NY 11794-2424
Interests
Comparative Genomics, Molecular Evolution, Population Genetics, Gene Regulation, Algorithms, Bayesian Statistics, Probabilistic Graphical Models
Biography
Adam Siepel is Professor in the Watson School of Biological Sciences and Chair of the Simons Center for Quantitative Biology at Cold Spring Harbor Laboratory. Siepel studied engineering at Cornell (1990-1994), then worked in software development for bioinformatics for several years in the late 1990s, before attending graduate school in Computer Science (M.S., University of New Mexico, 2001, and Ph.D., UC Santa Cruz, 2005). He was on the faculty of the Department of Biological Statistics and Computational Biology at Cornell from 2006 to 2014, where he taught courses in computational genomics and machine learning, directed Cornell's Ph.D. program in Computational Biology, and served as an associate director for the Cornell Center for Comparative and Population Genomics (3CPG). Siepel has also served on the editorial boards for Genome Research and PLoS Computational Biology, on review panels for the National Science Foundation and the National Institutes of Health, and on advisory committees for the National Human Genome Research Institute.
Research
He works on problems at the intersection of computer science, statistics, evolutionary biology, and genomics. His research has touched on a diverse collection of topics, including the identification of recombinant strains of HIV, the discovery of human genes, and the estimation of the times in early human history when major population groups first diverged.
Awards
Siepel is a winner of a Guggenheim Fellowship, a Microsoft Research New Faculty Fellowship, a Packard Fellowship, a National Science Foundation CAREER Award, and a Sloan Research Fellowship.