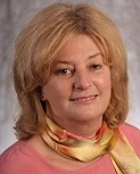 Institute for Computational Science 
IACS building L158
Stony Brook, NY 11794-5250
Email:
chapman

[at]

cs.stonybrook.edu
Interests
Compiler Technology, Parallel Programming Languages, Tool Support for Application Development, Parallel Computing and High-Performance Computing, Computational Grids
Biography
Barbara Chapman is a Professor of Applies Mathematics & Statistics and Computer Science at Stony Brook University. She is affiliated with the Institute for Advanced Computational Science (IACS) and has a joint appointment at the Brookhaven National Laboratory (BNL). She completed his Ph.D. at Queen's University of Belfast under the supervision of Professor Ronald Perrott. She was the director of the Center for Advanced Computing and Data Systems (CACDS) at the University of Houston. Professor Barbara Chapman has founded cOMPunity, Inc., an organization of researchers who are committed to furthering the work of the OpenMP Architecture Review Board (ARB), the organization that maintains and develops this application programming interface.
Research
Much of Dr. Chapman's current research is focused on OpenMP, a recent industry standard for shared memory parallel programming that has been broadly accepted by the computing community. More details and publications can be found here.