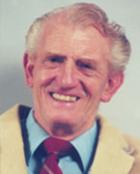 In Memoriam - Professor Emeritus
The CS department is sad to report of the passing of Dave Smith on August 29th. Dave will be remembered as a staunch supporter of the department and an innovator in computer science. 
Interests
Hardware Description Languages and Synthesis, VLSI Design Tools, and Experimental Chip Architectures.
Biography
David R. Smith received his Ph.D. from University of Wisconsin, Madison. He came to Stony Brook in 1966 and (with D. Tycko) established the computer science department in 1970. While at Stony Brook he published in the areas of combinational switching functions, shift register sequences, experimental parallel computer & chip architectures, hardware description languages, and hardware synthesis.