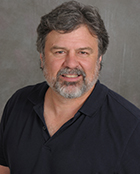 Computer Science Department
Old Office: 1414 Computer Science
New CS Building Location: 133 Computer Science
Stony Brook University
Stony Brook, NY 11794-2424
Email:
stark

[at]

cs.stonybrook.edu
Interests
Operating Systems, Programming Language Semantics, Concurrency Theory, Specification and Verification of Distributed Algorithms, and Functional Programming Languages.
Biography
Eugene W. Stark earned his Ph.D. in Computer Science from Massachusetts Institute of Technology in 1984.
Research
List of Eugene Stark's current and past projects including:
Awards
Eugene Stark has received Academy of Teaching Scholars award and Department Award for Undergraduate Teaching in 2000.
Teaching Summary
CSE 160, CSE 260, CSE 219, CSE 220, CSE 230, CSE 306, CSE 307, CSE 523, CSE 526, CSE 540