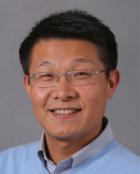 Director, Software Systems Division
Email:
rzhao

[at]

cs.stonybrook.edu
Interests
Information Retrieval, Data Mining, Machine Learning, Medical Informatics, Software Engineering, and User Interfaces.
Biography
Rong Zhao holds a Ph.D. in Computer Science from Wayne State University, an MBA from Stony Brook University, and a B.E. degree in Computer Science and Technology from Tsinghua University in China.
Research
Rong Zhao has the following projects:
Advanced Documentation of Clinical Encounters and Context-Aware Presentation of Electronic Medical Records
Computer-Aided Diagnosis System for Fast, Accurate and Remote Evaluation of Acute Chest Pain
Evidence-Based Utilization Management of New York State Medicaid Program
A Software System for Functional Assessment and Outcome Prediction for Patient Discharge Planning
Intelligent Robotic System for Healthy Independent Living
A Health Monitoring System for Chronically Ill Patients
Big Data Analytics for Health Information Exchange and Health Home Development
Analytic Engine and Recommender System for Customer Relationship Management
Semantic Methods for Dynamic Business Process Management
Teaching Summary
CSE 308, CSE 333, CSE 500, CSE 523/524, ISE 320, ISE 504, ITS 102, MBA 511, MBA 588, EMP 509, EST 582