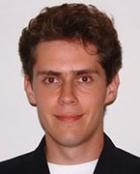 Research Assistant Professor
Department of Computer Science
Stony Brook University
Stony Brook, NY 11794-2424
Email:
borodin

[at]

cs.stonybrook.edu
Interests
Web Accessibility, Web Content Analysis, Crowdsourcing, Web Automation, Human Computer Interaction Natural Language Processing, Information Retrieval, Data Mining, Applications of Machine Learning
Biography
Dr. Borodin is well known for his research on computational methods and non-visual interfaces for improving Web Accessibility. Yevgen Borodin obtained his Ph.D. and M.S. in Computer Science from Stony Brook University in 2009 and 2005; B.Tech. in Web Development from Alfred State College of Technology in 2003.
Research
Yevgen Borodin's current research works include:
Context analysis in relevant information searching
Context in process models for non-visual online transactions
Personalized lifelong learning for non-visual online transactions
Web page segmentation, partitioning, summarization, and labeling
Improving accessibility of dynamic content in Web pages
Navigation strategies in Non-Visual browsing
HTML form analysis and non-visual filling
VoiceXML dialog generation and dialog selection
Awards
Recipient of close to $4M dollars in U.S. federal research grants, President's Award for Distinguished Doctoral Students (2010), 1st place winner of the 2007 ACM International Graduate Student Research Competition, Co-author of over 30 publications on various aspects of web accessibility, with several best papers awards. Dr. Borodin served on program committees for numerous conferences and journals.