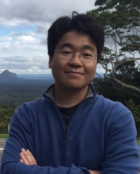 SUNY Empire Innovation Associate Professor
Department of Computer Science
Room 231
Stony Brook, NY 11794-2424
Email
mryoo

[at]

cs.stonybrook.edu
Interests
Michael's prime research interest is in the field of deep learning and its applications to computer vision and robotics.
Biography
Michael is also with Google Brain's "Robotics at Google" as a research scientist. Previously he was an assistant professor at Indiana University Bloomington, and was a staff researcher within the Robotics Section of the NASA's Jet Propulsion Laboratory (JPL). He received my Ph.D. from the University of Texas at Austin in 2008 and B.S. from Korea Advanced Institute of Science and Technology (KAIST) in 2004. 
Research
Michael's research focuses on developing convolutional neural network (CNN) models for semantic understanding of videos and its application to robot perception, robot learning, and human-robot interaction.