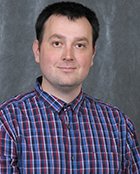 Associate Professor of Practice
Department of Computer Science
Room 214
Stony Brook, NY 11794-2424
Email
pfodor

[at]

cs.stonybrook.edu
Interests
Artificial Intelligence, Natural Language Processing, Logic Programming, Complex Event Processing, Knowledge Representation for the Semantic Web, Active Deductive Databases, Benchmarking for Rule-based Systems.
Biography
Paul Fodor obtained his Ph.D. and M.S. in Computer Science from Stony Brook University in 2011 and 2006, and B.S. in Computer Science from Technical University of Cluj-Napoca in 2002. He also worked at IBM T.J. Watson Research in the team that built the IBM Watson system that played on the Jeopardy! TV quiz show.
Research
Paul Fodor has the following research grants: 
Awards
Paul Fodor is a recipient of 2016 Undergraduate Education Award, 2014 Undergraduate Teaching Award, RuleML 2013 Challenge award; 2013 Office of the Provost Faculty Fellow; Outstanding Teaching Assistant award, Stony Brook University for academic year Fall 2003 - Spring 2004.
Teaching Summary
CSE 114, CSE 215, CSE 219, CSE 260, CSE 305, CSE 307, CSE 312, CSE 371, CSE 392, CSE 532, CSE 505, CSE 645, HON 111, ITS 102.