"Follow the Money" Receives Best Paper Award at Internet Measurement Conference 2013
Stony Brook, NY - November, 2013
Computer Science Assistant Professor Phillipa Gill received the Best Paper Award at the 2013 Internet Measurement Conference (IMC) in Barcelona, Spain. The paper, Follow the Money: Understanding Economics of Online Aggregation and Advertising, presents results from a study that examined the relationship between the amount of personal information collected online and the value of the information for advertising.
Gill's research stemmed from the large-scale collection and exploitation of personal information to drive targeted online advertisements, which increases security concerns. Gill and fellow researchers from Telefonica Research, Columbia University, and AT&T Labs Research, used HTTP traces consisting of millions of users to aid the study and present the first comparative study between revenues of online aggregators. A model was developed that captures the various parameters of today's advertising revenues, whose values are estimated via the traces.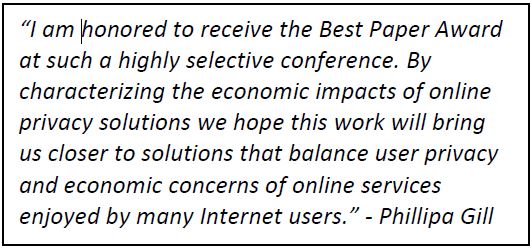 The research confirms Google's dominance as an online aggregator with a presence on 80% of publishers' web pages and highlights Facebook's growing ability to track users via its ubiquitous ``Like'' button which appears on 23% of publishers. The research also illuminates the economic tensions that plague current privacy proposals such as ``Do Not Track'', which if deployed by the top 5% of users would decrease online advertising revenue by a predicted 30%.
Gill presented a second paper at the conference, A Method for Identifying and Confirming the Use of the URL Filtering Products for Censorship through her collaboration with Citizen Lab. The conference selected papers that either improved the practice of measurement or illuminated some facet of an operational network.
To learn more about Professor Gill's research, download the paper at http://www.cs.stonybrook.edu/~phillipa/papers/GECK.pdf.
About Computer Science Department at Stony Brook University 
The Department of Computer Science at SBU, the flagship institution in the State University of New York system, is ranked among the top 20 computer science departments in the nation by the National Research Council. Interdisciplinary collaboration and research recognition elevated the Department to be the largest and strongest unit at Stony Brook University. The Department boasts internationally renowned faculty who have made significant contributions in visual computing, networking, computer systems, cybersecurity, algorithms, verification, and intelligent computing.