Cyber Wolfstock: Symposium and Alumni Event Highlight Security Research at Stony Brook
The Department of Computer Science at Stony Brook University hosted a weekend full of lectures, research presentations and networking discussions focused on the research areas of cyber security and privacy. The events were held in conjunction with the University's alumni weekend, Wolfstock, held in early October.
Cyber Wolfstock kicked off with Security & Privacy Day on October 13th. Researchers from institutions all over the nation gathered to exchange ideas at the SUNY Global Center in Manhattan. Leaders from Stony Brook's National Security Institute, including Professors Radu Sion, Nick Nikiforakis, Omkant Pandey, and Michalis Polychronakis, spearheaded the event, which was hosted by the CS department and the College of Engineering and Applied Science. Over 100 students, researchers and enthusiasts came together exchange ideas and share experiences related to security innovation. 
Stony Brook presenters from the CS department included Interim Chair Samir Das, Professors Scott Smolka and Nick Nikiforakis. Das presented security issues in spectrum sharing systems and Smolka discussed resiliency in cyber physical systems (CPS).
Joining Stony Brook faculty at the event were guest researchers from Yale University, Stevens Institute of Technology, Columbia University, and the United States Naval Academy. They covered a range of topics including privacy-preserving surveillance, incorporating generative adversarial networks (GANs) in cyber security, how to build safe and secure machine learning systems and baselines for shoulder surfing on mobile authentication. Experts in the industry and from top institutions and federal agencies, including the Office of Naval Research.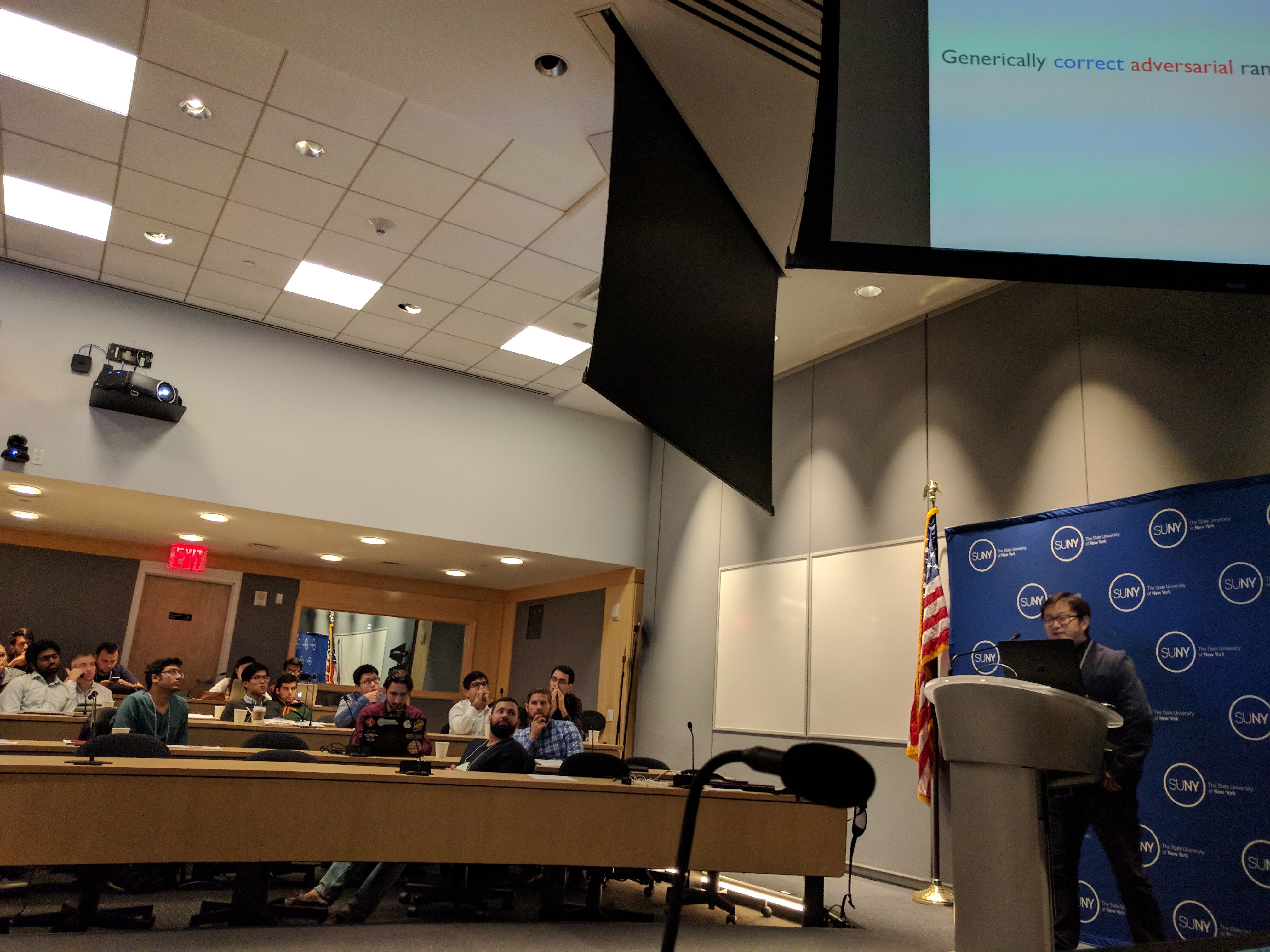 An invigorating part of Security & Privacy Day were the graduate student blitz presentations. During morning and afternoon sessions, thirty students from a number of institutions had the opportunity to showcase their latest research in two minutes.
Presenters from industry included Amir Rahmati from Samsung Research, and Vladimir Kolesnikov from Bell Labs. Rahmati, who presented Heimdall: A Privacy-Respecting Implicit Preference Collection Framework, will be joining the CS department in Fall 2018 as a faculty member.
The day after Security & Privacy Day, Cyber Wolfstock continued on Saturday October 14 with a cyber security talk geared toward alumni and the community given by computer science professor Nick Nikiforakis. In his talk, Why Hack when you can Scam? Professor Nikiforakis detailed how cyber criminals enact a number of attacks and how the everyday user and corporation can stop these attacks. Nikiforakis gave an overview of NSI's work aimed at understanding how scammers find victims online and how they commit fraud. Nikiforakis is known for his research on tech support scams which net millions for attackers. This research was recognized with a Distinguished Paper Award at NDSS 2017.
Cyber Wolfstock was a successful weekend of both sharing ideas and collaborating across fields. Samir Das, Professor and Interim Chair of the computer science department said, "The CS department's interaction with colleagues in an open forum is critical to the high-level cyber security research taking place in the department. Being able to further transform this research into an educational opportunity for our alumni and the community is an added bonus."