"ElMem" Receives Best Student Paper Award at IEEE ICDCS 2018
Doctoral students from the Department of Computer Science were excited to win the Best Student Paper Award at the IEEE International Conference on Distributed Computing Systems (IEEE ICDCS 2018) for their work detailing a new elastic Memcached system.
Students Ubaid Ullah Hafeez and Muhammad Wajahat, who are part of Professor Anshul Gandhi's Performance Analysis of Computer Systems Lab (PACE), were recognized by ICDCS for their paper, ElMem: Towards an Elastic Memcached System.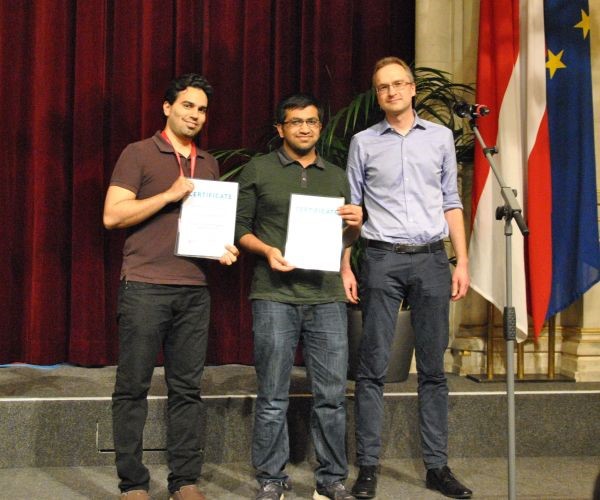 Pictured l-r: Prof. Anshul, Gandhi, Ubaid Ullah Hafeez, & Program Chair Peter Pietzuch
Memory cache provides quick access to a computer's processor and allows for storage of frequently used computer programs, applications, and data. Memory caches, such as Memcached, alleviate the "load" of a database but can be expensive in terms of power and operating costs. Memcached is not elastic in nature but a "stateful" system which remembers all client data from one request to another.  
The winning ICDCS 2018 Best Student Paper proposed using ElMem, an elastic Memcached system that lowers performance loss and increases efficiency. The key component of the work is an efficient algorithm called FuseCache, which migrates the optimal amount of hot data to minimize performance loss.  
IEEE ICDCS is one of the top venues for research results in distributed systems. The 2018 event, held in Vienna Austria, received 378 paper submissions and accepted about 20% of the papers for presentation. Conference research tracks cover topics such as cloud computing and data centers; distributed big data systems & analytics; distributed operating systems & middleware; distributed algorithms & theory; and social networks and crowdsourcing.
Congratulations to Ubaid and Muhammad on this impressive accomplishment.
About the Researchers
Muhammad Wajahat is a PhD student in the PACE Lab at Stony Brook University. He received his bachelor's degree from Lahore University of Management Sciences, Pakistan in 2014. His research interests include applying empirical and analytical modeling techniques to improve the performance and resource utilization of cloud systems. He has been involved in multiple projects in this area with leading industry research groups like IBM and AT&T.
PhD Student Ubaid Ullah Hafeez s a research assistant in the PACE Lab and his research focuses on auto-scaling of distributed key value stores (Memcached). Hafeez has received the department's Graduate Fellowship Award for two consecutive years and he anticipates graduating in 2021. Prior to joining Stony Brook, he graduated from Lahore University of Management Sciences in Pakistan where he worked as a research intern in the security and systems group.