Francesco Orabona Named Bell Labs Prize Finalist
The Bell Labs Prize is a competition for innovators worldwide that recognizes game-changing proposals in the field of information and communications technologies. 
Stony Brook University Professor Francesco Orabona is one of nine finalists for this prestigious prize, which provides innovators with an opportunity to partner with Bell Labs researchers to help make their vision a reality.
"I can say that I am really thrilled to be a Bell Prize finalist," Orabona said. "This is the last stage of the selection process. I already went through a first stage (from more than 300 to 15 projects) and a second stage (from 15 to 9 projects)."
The winner of the prize will be named on December 8 at the Hamilton Farms Golf Club just after giving presentations at the Bell Labs facility in Murray Hill.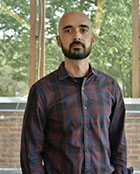 Orabona is up for the prize thanks to his work on Machine Machine Learning: Removing the Human Factor from Machine Learning. The proposal attempts to make machine learning algorithms automatic, such as the ones that are driving Artificial Intelligence (AI). 
The algorithms require human interaction to work properly. But Orabona's proposal uses 
"tools from information theory to design new automatic machine learning algorithms."
The panel of judges for the prize includes Bell Labs President Marcus Weldon, along with Nobel Laureate and other esteemed academia. The nine proposals will test the potential human impact and advancement of science and technology. 
"Given that they prefer very applied projects, I think this is a big achievement for me," Orabona continued. "But also a recognition of the importance of theory in a field dominated by trial-and-error as the method of choice to progress."
To win the prize, proposals must "be significantly differentiated from the start-of-the-art in the field," along with demonstrating "a credible proof-of-concept or set of results that validate and quantify the magnitude and generality of the innovation."
 
Chris White and Tod Sizer are serving as Orabona's Bell Labs Executive Sponsors, who will counsel him in order to maximize his chances of success.
Orabona began teaching for the Department of Computer Science, which is part of the College of Engineering and Applied Sciences, in September 2016. Previously, he was a senior research scientist at Yahoo Labs and a research assistant professor at Toyota Technological Institute. 
We wish Orabona the best of luck as he looks to secure this amazing prize!
Joseph Wolkin