New Approach to Storage Performance Modeling Wins IEEE MASCOTS Best Paper Award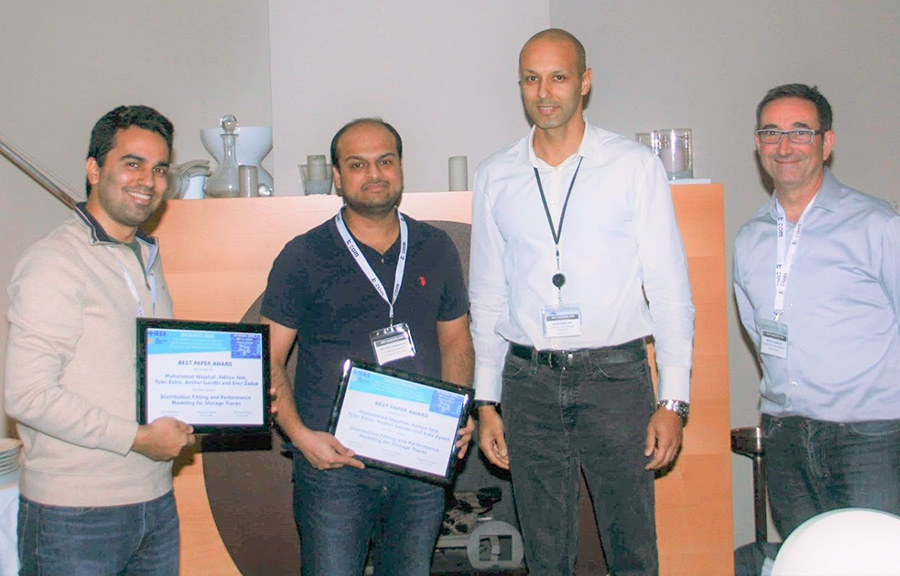 A team of Department of Computer Science (CS) faculty and graduate students won the Best Paper Award at the 2019 IEEE Modeling, Analysis, and Simulation of Computer and Telecommunication Systems (MASCOTS) Conference in Rennes, France on October 23, 2019. Grad student Muhammad Wajahat presented the paper, "Distribution Fitting and Performance Modeling for Storage Traces," which was selected as the winner out of 29 accepted for publication (the conference received 122 submissions, 24% of which were accepted for inclusion in the conference).
Their research, which focused on hard drives and some flash drives, studied the time between successive storage requests and inter-arrival times by examining traces (log files). By looking at this activity, they can estimate the performance of a system and suggest ways to more efficiently schedule storage in cases where the requests come faster or bunched together.
 
"The primary contribution of this work is performing an extensive distribution fitting study across more than 200 storage traces using five different metrics of accuracy. An important conclusion that can be drawn from this work is the need for performing distribution fitting on system traces to better represent their behavior," said Professor Anshul Gandhi. As head of the PACE lab, he is interested in applying theory to systems, in this case to storage performance modeling.
The paper was a collaborative work between the Performance Analysis of Computer Systems (PACE) Lab, led by Gandhi and the File systems and Storage Lab (FSL) headed by Professor Erez Zadok. Grad students Aditya Yele and Tyler Estro were also part of the team.
About the Researchers
Anshul Gandhi has been an Assistant Professor in the Department of Computer Science since 2014. He leads the Performance Analysis of Computer Systems (PACE) Lab, where he leverages mathematical tools to analyze the behavior of systems and optimize metrics of interest such as performance, power and energy. Among his main research aims is the improvement of system performance via analytical tools.
Erez Zadok leads the File systems and Storage Lab (FSL), which specializes in research operating systems with a focus in file systems, storage, security and networking. His other research interests include operating systems, energy efficiency, performance and benchmarking, security, networking, big data, distributed systems and data centers. His projects aim to produce high-quality codes that address real issues faced by society and industry.
Muhammad Wajahat is a PhD candidate in PACE Lab, working under the supervision of Professor Anshul Gandhi. He joined the Department of Computer Science in Fall 2014 after graduating from Lahore University of Management Sciences (LUMS) in Pakistan. His research focuses on the intersection of performance modeling and distributed systems, mainly targeting resource management strategies in the cloud to improve performance and resource utilization. He has worked with leading cloud research groups at IBM Research and AT&T Labs Research since joining the department.
About MASCOTS
The IEEE International Symposium on Modeling, Analysis and Simulation of Computer and Telecommunication Systems (MASCOTS) was established in 1992 as an annual symposium in which scientists present state-of-the-art research in the areas of the performance evaluation of computer systems and networks as well as in related areas and emerging technologies such as nano-networks, energy networks and the smart grid and advanced machine learning techniques for performance analysis and management.
-- Marcia-Ruth Ndege