In Remembrance: Stella A. Mannino
Country singer Garth Brooks said, "There would be no Garth Brooks if there wasn't a Randy Travis." The Department of Computer Science could say the same about Stella Mannino, i.e., There would be no Department of Computer Science, if there was no Stella.
For 30 years, Stella served hundreds of faculty as a vital part of the department. She started as an administrator when the department had only 20 professors and retired in 2019 when we hit 50+ core faculty.
Stella beamed with pride when she shared stories about her daughter Nikki, most recently professing her love of all things Coca-Cola. Stella referred to the department as "Camelot" when she welcomed newcomers. Hundreds of students knocked on her door over the years to ask for help navigating their way on campus or to bring her a trinket from their hometown as a show of appreciation. (Her office was filled with them!)
In Stella's memory, faculty and staff donated over $1,000 to Spirit's Promise (https://www.spiritspromise.com/), a non-profit dedicated to rescuing horses and helping people through their grief.
As we learned of Stella's passing in February 2022, faculty and staff shared their cherished and funny memories of Stella.
___________________________________________________________________
If you are new in the department and do not know her, Stella was a devoted staff member with our department for about 30 years. She was a constant presence and very familiar face to everybody here including many generations of grad students. Stella retired in 2019. She will be fondly remembered. May her soul rest in peace. –Samir
.....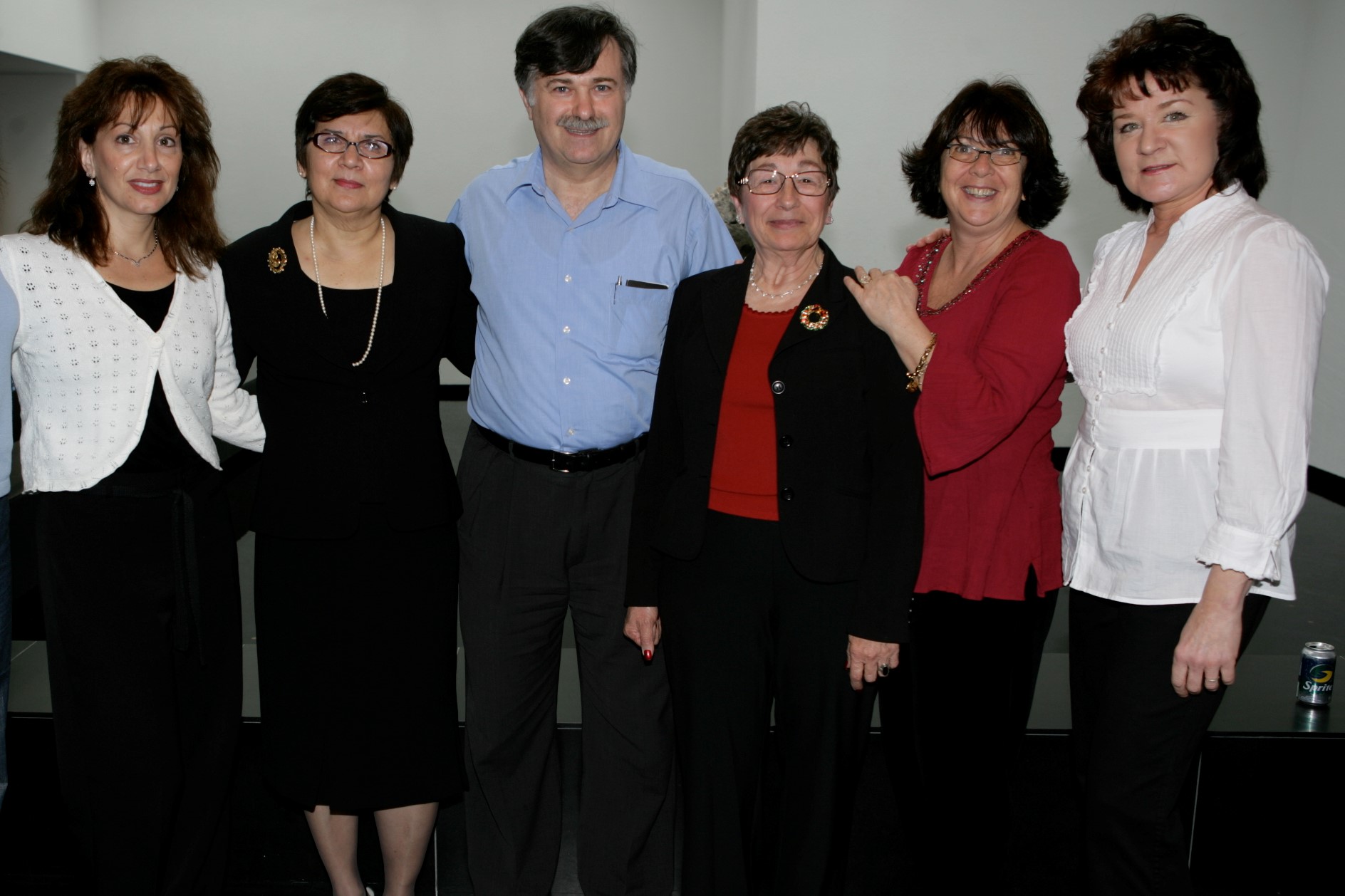 I was so extremely saddened and devastated by Stella's departure that it was very difficult for me to sit and write this note to share with you. I have known Stella well for about 3 decades, since Theo and I hired her as our admin assistant.  Later she transitioned and was serving the whole department, especially the visual computing group, as well as serving as my assistant when I was Chair.
Over these three decades, Stella was my right hand and I completely attribute my successes at Stony Brook, as a researcher and as Chair for 18 years, to her steady and valuable assistance. She knew how to navigate the campus extremely well. She was also highly efficient and managed to most energetically complete numerous chores in a single hour.
Stella had a distinctive and honest personality. She was funny and had a flashy giggle. Although she didn't call me "sunshine" every morning, I did receive a very cheerful good morning with a few additional labels…  It was one of her little idiosyncrasies.  She was also determined and persistent. She was a very warm and caring person to all and never said no to anyone. She was especially fond of the graduate students and served as their away-from-home mother. The students were also her top priority and she would process their RA/GA/TA appointments first. Although she was a private person and didn't want a retirement party, she was glad to share with us her experiences with her lovely daughter growing up, getting married and moving to Florida. She was also very proud of her own horse and shared her pictures riding it.
I remember when she lost a dear family member and was crying, I comforted her saying that they are now in "good hands,", which seemed to calm her.  May she rest in peace in "good hands." - Ari
…..
I hired Stella (on a state line) around 1989. She had a very impressive resume (incl. positions with high salary) and I was wondering why she bothered applying for a state job. She replied that she had a young daughter and she wanted to be home when her daughter came back from school. She was willing to work for a lower salary in exchange for flexible hours. Hiring her was a no-brainer. Eventually the state line disappeared and she went on research grants. She was by far the best secretary I ever had. (Including those in my industrial positions.) -Theo
…..
I've spent the first 15 years of my career in an office in old CS, two doors down from Stella.
She was probably the person I interacted with the most in that building. She was warm, funny, direct and definitely got me out of many difficult situations!
I learned so much about how this University works from her. I've been remembering her warm greetings in the morning and definitely the way she rolled her eyes when I was late with paperwork.
I am sorry she didn't get to enjoy more of her retirement. May she rest in peace. -Dimitris
….
When I moved to NY from the Midwest I had no idea how quick-witted and blunt a native New Yorker would be. Then I met Stella and her amazing Brooklyn accent. She was the most warm-hearted person you could find, but she wouldn't take [nonsense] from anyone. She put me in my place more than once and I had to say to myself, silently, "yes, Stella, you are probably right". I learned a ton about life and how to deal with people from Stella and I owe her big time. My wife told me several times that Stella was the "older sister" I never had.
She had amazing people skills. She would get stuff done the New York way. She'd "talk to people" and things got moving. She knew how to pick up the phone and chat with the "girls" in the administration and she saved my butt many times. They should make a movie about her.
For those who know the cozy old building you will know how things often appeared in the hallway, seemingly owner-less. Stella told me that any of that stuff is there for those who take it first. It is how I got a hold of a beautiful big executive desk for my office, much better than the simple rusty metal one I started out with. A few weeks later I "found" a really nice chair to match. 
Soon after I used the same technique to score a massive picture that was sitting on a NYC sidewalk close to the parking spot I found late night. Deep in my mind I heard Stella say "if it's still there when you're finished with parking, you better take it". I parked the car and the picture was still there, leaning against a lamp post, its wide golden frame glowing in the moonlight. I embraced it with both hands and hauled it 3 blocks to my apartment where it still is to this day.
Stella loved her horses. Hope she's riding a nice one far from here.  --Klaus
…..
If anyone keeps count up there, this is simply unfair! Stella deserved to have many more years with us here. She was amazing, warm, witty, smart, and -- I'd not realized until now just how much -- a part of my world. She was putting up with all our personalities with a smile and always a warm and witty remark.
I am shocked, absolutely shocked. Until now I had not realized how much Stella meant to me. She will live on in our memory and I know she is riding a beautiful white horse up there! – Radu
…..
I sat in the office next to Stella in the old CS Building, so had many years of a front-row seat to her unique and wonderful personality. I remember the day she came in for her interview.  We were all so young back then. In many ways, we (the staff and even faculty) have grown up and grown older together over these years. I agree, it isn't fair. This force of nature is no longer with us making the world a better place with her honesty, warmth, and caring.  I am thankful to have known her. -Kathy
…..
I also fondly remember Stella. She helped me a lot with all sorts of [challenges] and there was a mischievous/teasing element to her, which is something I appreciate in people.  -Nick
…..
I am deeply saddened to hear that Stella has left us.  I am glad I could chat with her on her last day in NCS while she was packing and cleaning up her office. I have fond memories of her. May her soul RIP. -Vibha
…..
In my memory, Stella was always energetic and warmhearted. She helped me and many graduate students a lot! There were many photos, decorations and international souvenirs in her office, sent by friends and students. Every sunny morning, when I just arrived at my office, I could hear her making phone calls. On many Fridays, she changed into formal dresses and wore jewelry with a big smile on her face. Not only the faculty members, but also many students who graduated from our department will remember her, she will live in our hearts forever. -David Gu
…..
I am saddened and shocked by Stella's departure. I think she thought of us as children that needed protection. We would exchange Christmas gifts at the department Christmas party and she would laugh wholeheartedly about my lottery subscription. We always made plans play together the next year. -Paul
…..
When I started in the department Stella always checked in on me each morning to make sure I was doing well. My favorite memory of Stella was one I experienced daily with her until her retirement. Depending on the time of day I would hear "good morning, sunshine or hello sunshine," usually with a big smile on her face. She will be so missed by all that knew her. -
Allison
…..
Stella always seemed like the quintessential New Yorker to me---witty but tough. I won't lie, there were times when I was intimidated by her, especially when submitting reimbursement forms. It is indeed very touching to hear all the fond memories of her from others. She will be missed. - Anshul
…..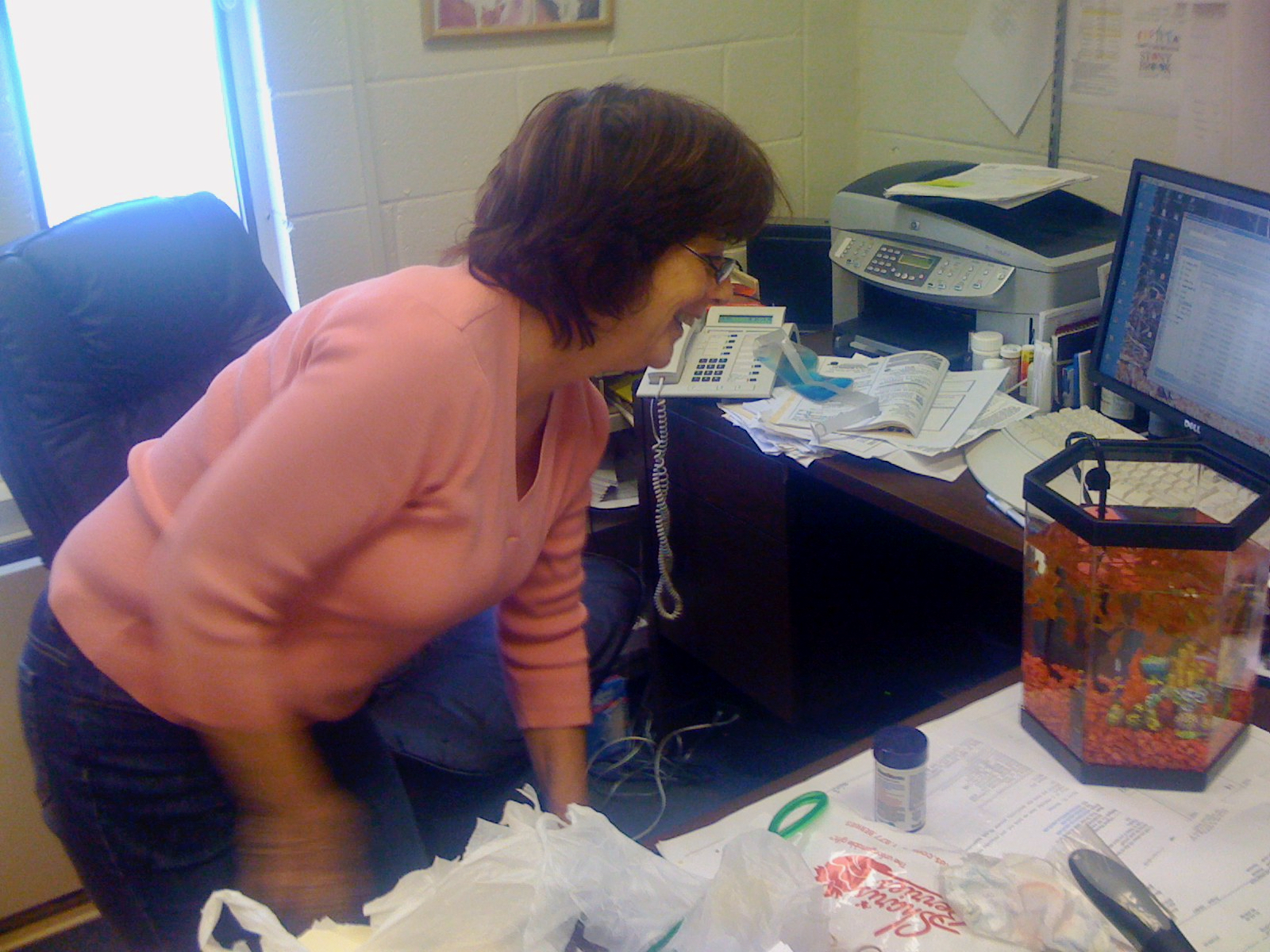 Stella was my pal. She always looked out for me and helped me to navigate the bureaucracy. On good days we'd hang out and talk about our daughters' love of horses. On not so good days we'd sneak out for a cigarette to dish and exchange a couple of eye-rolls and giggles.
One time a student left a fish (!) in the multimedia lab. I don't know how long the poor little soul had swished around in his tiny plastic bag, but as soon as I discovered him I rushed him down to Stella's office. With a wide grin she plopped him into her fish tank and sprinkled out some food for him. She called him "Rosy". Sometimes I would go into her office and I could hear her talking fondly to him.
Stella had a lot of love for all things, big and small. I am really saddened she's no longer with us. -Tony
…..
Stella was a great girl, the kind of person you don't often meet. I call her a girl because that's how I felt when we were together, like we were 20 year olds always clowning around with each other. We both loved our horses and were able to get out together quite a few times to trail ride at local parks. We would giggle and laugh cantering through the woods. She was my partner in crime when we would sneak out to the pond or jump in the car to go thrifting. Stella was a good friend, kind and true and I'll miss her very much. -Cindy
…..
When I started here she was full of warm greetings for me, as well as plenty of advice and sage wisdom to help me get onboarded.  I will never forget the sign she put on my door 'WELCOME TO CAMELOT', I still have it to this day in my current (and her former!) office. Not sure who CS' King Arthur is, but she always laughed when I mentioned the sign to her over the years we worked together. -Andrew
…..

Thanks to Stella I had a front row seat to a highly-rated television sitcom. I used to tell her it was like watching a smart NY version of Mrs. "Sa" Wiggins (Google Carol Burnett). No matter how hectic and or how wild of a request she received, it didn't faze her. She carried on and laughed through it. At one of our last staff events together, we had an ugly holiday sweater contest. There was Stella, wearing a Christmas tree skirt as her top! Classic. I came in at the tail end of Stella's career at SBU and my only wish is that I met her sooner. -Christine
…..
I remember three things clearly about Stella.
First, Stella solved problems the "old way."  She would go talk to people, whether on the phone — or better yet, walking over in person (I suspect she used the "walk over" excuse to get a "puff break").  Still, the problem got solved and quickly.  In a two-minute talk with someone, she'd solve a problem that dozens of emails couldn't.  She knew everyone and know how to cut through a lot of red-tape.
Second, whenever I needed a quick but urgent meeting with Ari, she'd tell me "Erez, go wait in your office — I'll call you when Ari walks in."  And sure enough, she'd call me and say "He's walking in.  Come.  Quick."  I've always suspected she retroactively scheduled some of these last-minute meetings in Ari's busy calendar (so it looked like it was scheduled long ago :-).  Her genuine care for everyone was very apparent.
Third, whenever I was a bit too pushy with my requests, she had no qualms to put me in my place — with a wink, a smile, but a commanding, raspy voice. Her departure is sad and indeed way too early.  Rest in peace. –Erez