Shaping the Future of Computing: Computer Science Alum, Jesmin Jahan Tithi, Inducted into the ACM Future of Computing Academy
The first time Stony Brook University Department of Computer Science graduate Jesmin Jahan Tithi (PhD '15) arrived on campus she saw snow for the very first time in her life. Since that day, her achievements in computer science have snowballed into a successful career. This past December, she was honored with induction into the exclusive Association for Computing Machinery Future of Computing Academy (ACM FCA). The ACM FCA empowers the next generation of computing professionals with the support and engagement they need to shape the future of computing.
Tithi currently works as a Research Scientist in the Parallel Computing Labs at Intel Corporation (where she had previously completed an internship). "I have been focusing on developing novel algorithms to solve graph problems, irregular scientific simulation problems, and machine learning algorithms," Tithi said. Her work includes hardware-software co-design efforts to design algorithms for special purpose accelerators that offer orders of magnitude speedups per watt compared to traditional general-purpose CPUs.
In addition to her work at Intel, Tithi is also an associated faculty member at the Big Data Lab in Goethe University, Frankfurt, Germany, where she works on z-inspection, which is a tool to analyze the ethical consequences of an application or system before or after deployment. The aim of this research is to help contribute to closing the gap between "principles" (the what of AI ethics) and "practices" (the how).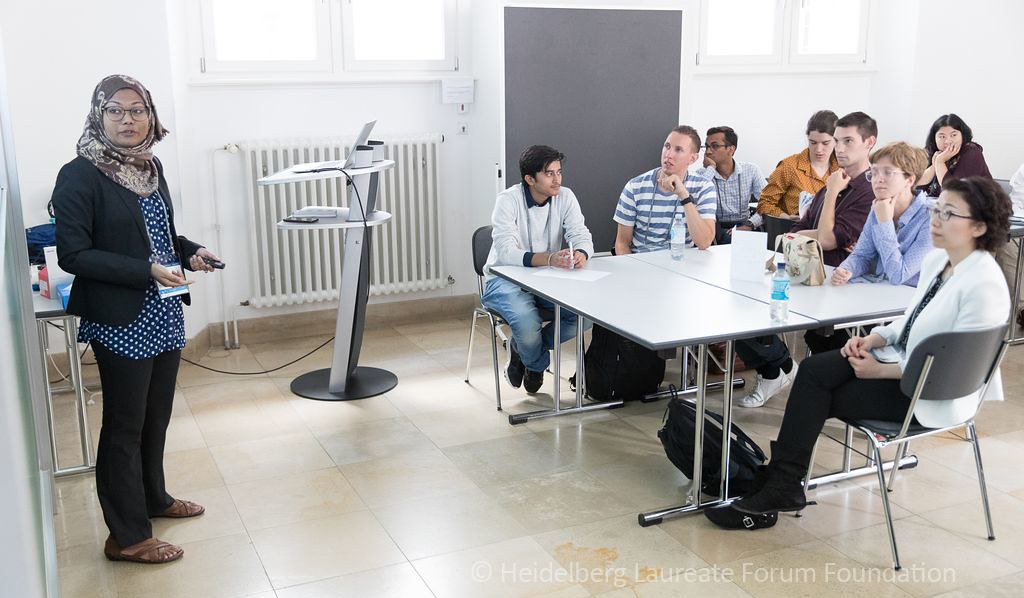 Her interest in ethical AI also includes a workshop she organized at the 2019 7th Heidelberg Laureate Forum in Germany and the responsible AI and techpolicy projects she is working on as a member of ACM-FCA. "I am very concerned about the unethical and irresponsible usage of AI because it's something that is going to impact all of us," said Tithi. "Biased AI systems can favor one social group over another for medical treatments or unfairly select a job or university applicant. Such systems can make society even more polarized and increase inequality. For these reasons, I am focusing on tools and methods to systematically analyze the ethical implications of AI software."
"I am not at all surprised by Jesmin's achievements," said Associate Professor Rezaul Chowdhury of the Department of Computer Science (who was Tithi's Ph.D. supervisor). "This is the same Jesmin that left my lab four years back -- highly self-motivated, extremely proactive and relentless in setting and achieving her goals! I am happy that she hasn't changed!" With her induction to the ACM FCA, Tithi joins a select group of incredibly accomplished people from a variety of computing genres.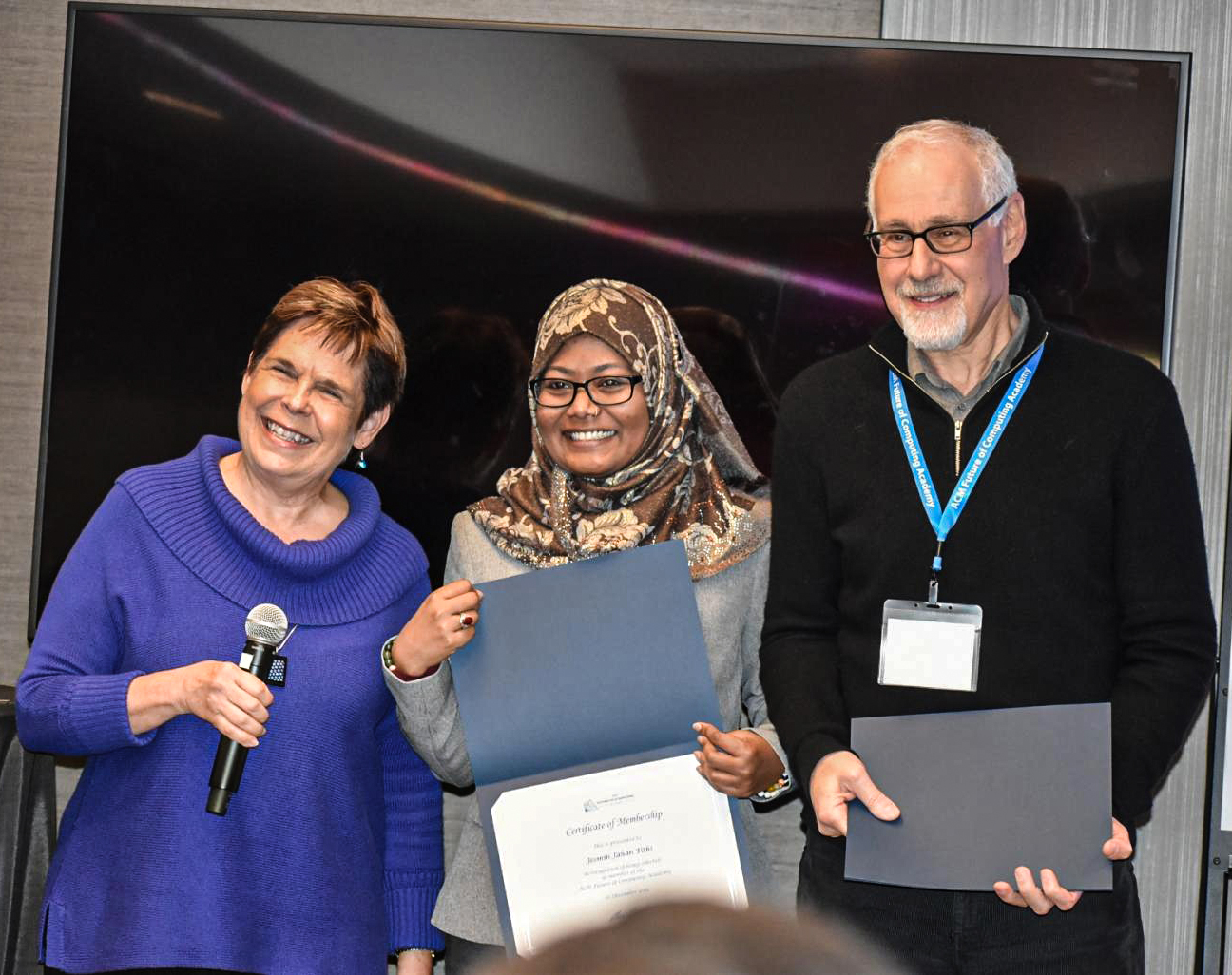 While at Stony Brook, Tithi received several grants and funding awards including the 2014 CRA-Women Graduate Cohort Workshop, an ACM-W Scholarship, Anita-Borg scholarship as a GHC scholar, IEEE TCPP grant to attend IPDPS 2014, an international forum for scientists to present their parallel computation research; and the National Science Foundation awarded her a grant to attend the 2014 IEEE International Symposium on Performance Analysis of Systems and Software (ISPASS). She also attended and presented at the 2013, 2014 and 2015 Grace Hopper Celebration. Tithi was also an active proponent of encouraging women to pursue STEM education.
Tithi's advice to current computer science students is to work hard and explore every opportunity that Stony Brook presents to you. "My time at Stony Brook was full of experiences and lessons that I would carry throughout my entire life; I literally learned so many things that are difficult to list here," she said. "I am very much thankful to the professors of the Department of Computer Science, IACS and Mathematics. I am especially thankful to my Ph.D. supervisor Dr. Rezaul Chowdhury for all his support and guidance during my stay at Stony Brook and afterward. I am proud to be a sea-wolfwoman."
The ACM Future of Computing Academy was created in 2017. It empowers young researchers, practitioners, educators, and entrepreneurs of computing to cultivate a strong and persuasive voice towards addressing challenging issues facing ACM, the discipline, and the world. The academy aims to develop a collective action to define and create new ACM initiatives to carry computing into the future.