Vasily Tarasov wins IBM Ph.D. Fellowship for 2012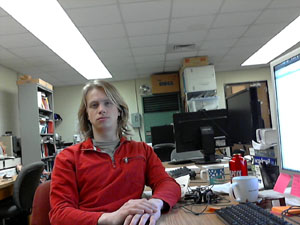 Computer Science PhD student Vasily Tarasov had won an IBM PhD Fellowship for 2012, second year in a row.
IBM Ph.D. Fellowship recipients are selected on the basis of outstanding research and technical excellence in areas of interest to IBM. These competitive fellowships provide a stipend, tuition, and fees to the awardees. The fellowships are also structured to allow students to pursue a technical career in either IBM's Research Division or IBM's development laboratories.
This is a highly prestigious annual competition. Less than 10% of world-wide applicants make it to the 2nd selection phase, and fewer make it to the final award. Often, schools are also limited to submit no more than 1-2 names annually.
Professor Zadok's student, Vasily Tarasov, studies the impacts of the virtualized workloads on the modern multi-layer storage stack. One of the major trends in modern Information Technology is a shift from traditional physical hosts to virtual environments that share a powerful server. I/O workloads created by virtual environments are significantly different than ones created by physical machines. In addition, as I/O requests pass through multiple layers in a virtualized storage stack, their characteristics change drastically. As a result, a workload observed by the bottom-most I/O layer is quite different from the original workload observed at the upper-most application layer.
Tarasov's work proposes to collect traces from multiple layers in a virtualized storage stack, analyze them using a custom developed Trace2Model tool, and characterize the changes observed. Such a characterization is a first step towards designing new storage systems that are optimized for virtualized workloads. The final goal is to provide better performance of scalable Network-Attached-Storage (NAS) solutions, where the back-end file system is a distributed file system, such as IBM's GPFS. Only such solutions will be able to keep up with the scale of the future VM deployments as seen by modern Clouds.