Computer Science PhD Grad Featured on NBC Nightly News with Lester Holt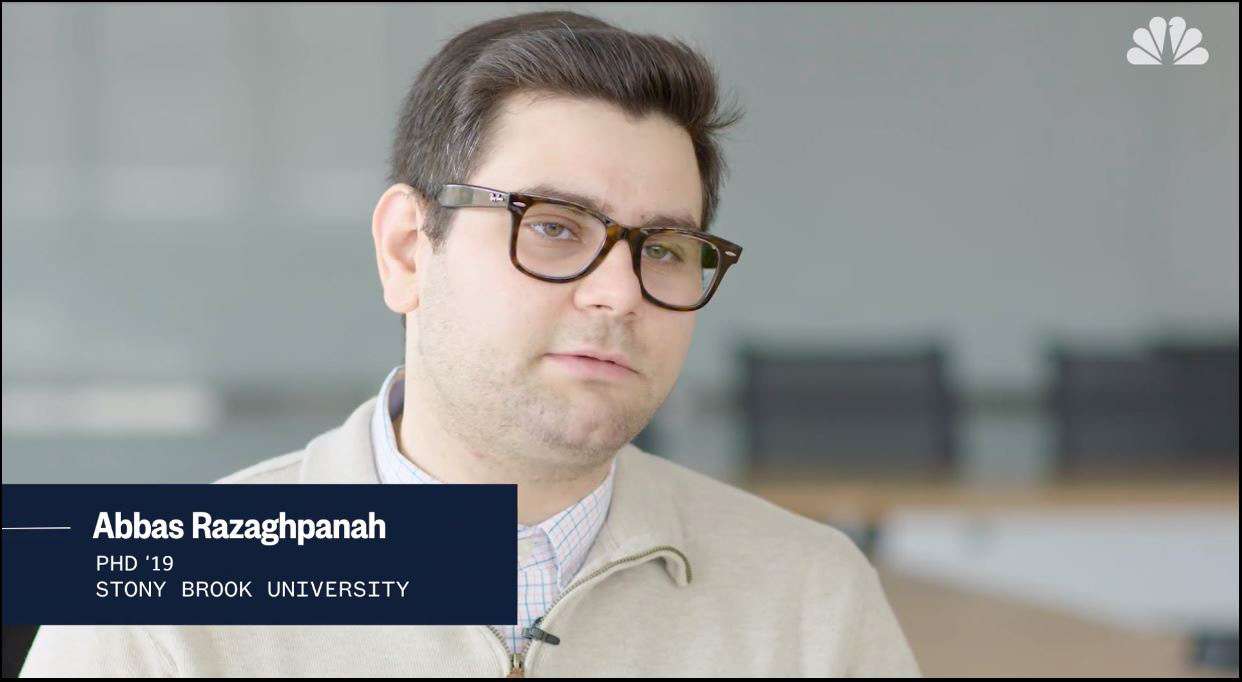 Recent Stony Brook Department of Computer Science PhD recipient, Abbas Razaghpanah ('15 MS, December '19 PhD), was interviewed as part of an NBC Nightly News with Lester Holt story ("Privacy and Power") about online and mobile app security. Razaghpanah appears in a segment called "What Your Apps Say About You."
In the video, Razaghpanah demonstrates how an app user's private information and location is being shared with numerous third parties. "When you open an app there are components from many different parties that you may not be aware of. Sometimes before you even get to interact with the app, the app is already collecting information about you," Razaghpanah said. "This is something that all of the of the apps that you interact with on a daily basis are doing."
Razaghpanah, who since the interview was filmed has begun working at the International Computer Science Institute in Berkeley, CA, has previously received coverage of his research from NBC News and BuzzFeed. His paper on Children's Online Privacy Protection Rule (COPPA) violations was also covered by The Guardian, The Verge, Washington Post, CNET, Fox News, The Inquirer and New York Post.
Focused on online privacy, mobile advertising and the tracking industries, Razaghpanah's work includes co-creating (along with researchers from UC Berkeley and IMDEA Networks) a mobile app called Lumen. Lumen, funded by the National Science Foundation, Data Transparency Lab and the European Union's Horizon 2020 Fund, is a privacy app that helps users understand the privacy cost of using mobile apps and allows researchers like Razaghpanah to get anonymous data about mobile apps to study them at scale. 
While Razaghpanah's segment (Part 2, "What Your Apps Say About You") has not aired on television yet, the entire "Privacy and Power" series is available now on NBC News' Nightly Films YouTube page.