CS Leadership Series Kicks-off with Cemtrex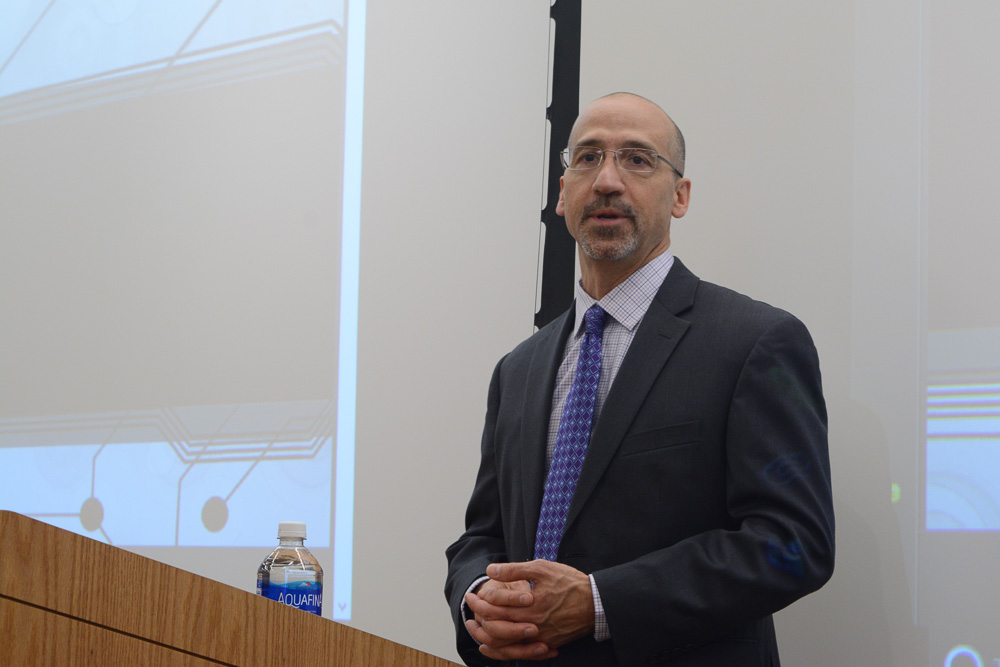 Joseph Novelli, Vice President of Cemtrex Advanced Technologies, was invited to speak at the inaugural Computer Science (CS) Leadership Lecture Series geared toward undergraduate students. In Novelli's talk, How IoT is shaping data-based product development and wearable technology, he touched upon technical subjects as well as offered career guidance.
In the consumer electronics industry for 25-years, much of Novelli's background in the industry is in planning, management and development of products, services and software. With so much ambition and curiosity, Novelli's entrepreneurial spirit has earned him a reputation for launching cutting edge product lines. Novelli previously worked as VP of Solutions Planning for Sony's Digital Paper Solutions Division. He was also VP of Strategic Product Planning for Sony audio products, as well as VP of Wireless Platform in Sony's Digital Reading Business Division.
Novelli began his lecture detailing what he learned from each company he had worked with and the way those experiences and knowledge play a role in his work today. Leading into the work that his current company Cemtrex does, he explained his role as leader in the development and commercialization of proprietary and collaborative Internet of Things (IoT) and wearable electronics.
Interestingly, Novelli has a degree in electrical engineering and a minor in psychology. He attributes his minor with allowing him to better understand consumer behavior in an always  evolving technology market.  He stressed the importance of being a "savvy marketer" and he highly recommends that students learn how to market a product or lead a marketing campaign.
Like many successful tech leaders, Novelli emphasized the importance finding a balance in your work and personal life. He also gave some helpful tips about what Cemtrex looks for in computer science and engineering graduates. With offices in NY, Pennsylvania, India, and Hong Kong, Cemtrex is currently recruiting software engineers in their Farmingdale, NY office.
"The CS Leadership Series was a great opportunity for Cemtrex to connect with CS students. In fact they were fortunate to meet several students from the student group, Women in Computer Science (WiCS). It was clear that the students found Joe's advice helpful and eye opening," said Min Um-Mandhyan, Director of Development for the College of Engineering and Applied Sciences.  
All students are invited to join us for the next CS Leadership lecture being planned for February 2018. If you are an alum or company interesting in reaching computer science students by participating in the CS Leadership Series, contact Min Um-Manhyan.