University Recognizes CS Faculty and Staff Achievements
More than 10 percent of the Stony Brook honorees at a recognition dinner held in November were faculty and staff members of the Department of Computer Science (CS). In total, Stony Brook University acknowledged the accomplishments this year of over 130 faculty and staff with 14 of them from the CS department.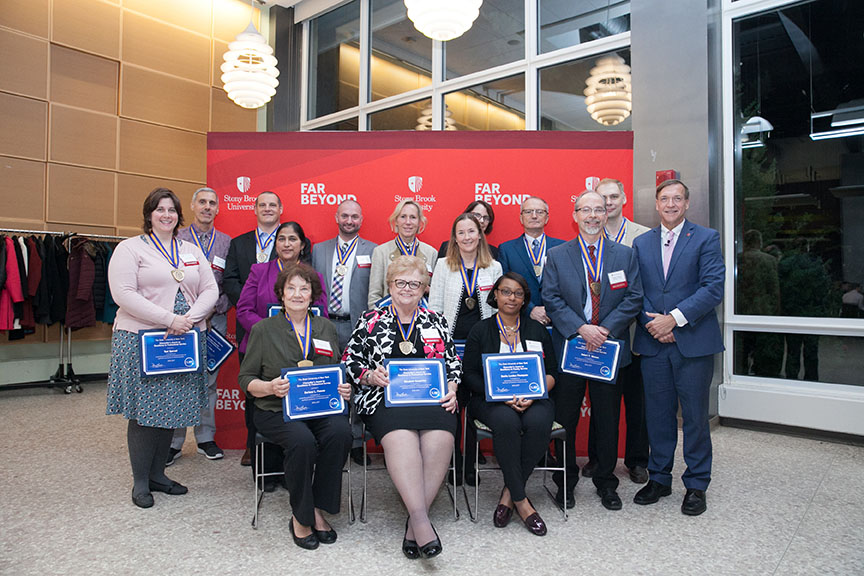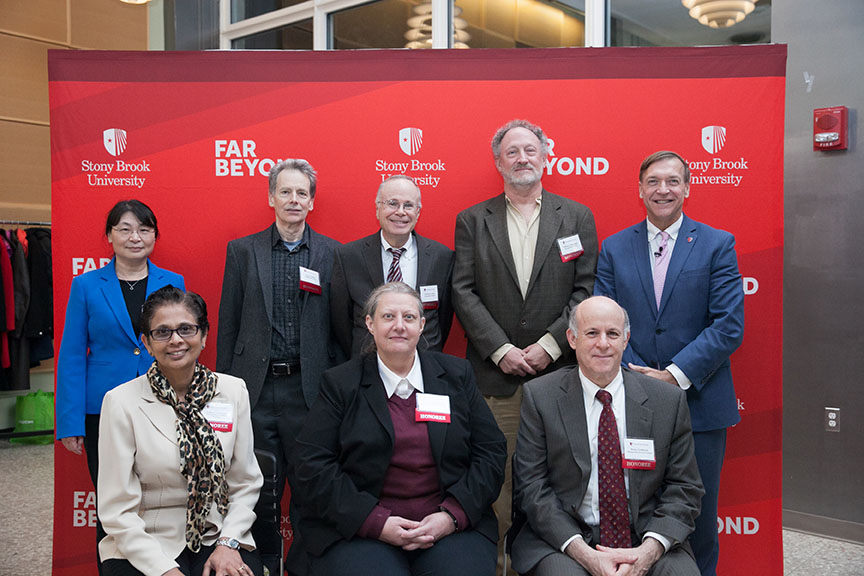 President Stanley opened the evening by recognizing individuals on campus who received Presidential-Mini Grants. As he addressed the room full of honorees President Stanley said: "Tonight we celebrate outstanding individuals whose efforts have gone far beyond the expected and who have made Stony Brook University a showcase for excellence. Your contributions enhance the lives of our students and our reputation throughout SUNY and among our AAU peers. It is because of your dedication and vision that Stony Brook has accomplished so much in only 60 years."
As the night continued, Provost Bernstein highlighted those who could not attend and offer time to the Deans of each college to honor their faculty members. As the Computer Science faculty were announced, awards ranging from professional excellence and Google research awards to technology hall of fame honors were called, the CS department shined.
Congratulations to the following honorees from the Department of Computer Science:
Professor Aruna Balasubramanian, Google Faculty Research Awards
Professor Michael Bender, David R. Smith Leading Scholar in Computer Science
Professor Jing Chen, National Science Foundation CAREER Award
Professor Rezaul Chowdhury, National Science Foundation CAREER Award
Professor Michael Ferdman, Google Faculty Research Awards, David R. Smith Young Scholar in Computer Science
Professor Anshul Gandhi, Google Faculty Research Award
Director of Operations Kenneth Gladky, Excellence in Professional Service
Professor Nima Honarmand, Google Faculty Research Awards
Distinguished Professor Arie Kaufman, LI Technology Hall of Fame, Most Innovative Patent Award
Postdoc Research Fellow Joseph Marino, LI Technology Hall of Fame, Most Innovative Patent Award
Professor Klaus Mueller, IEEE Awards, Computer Society Golden Core Award, IEEE Awards, Computer Society Meritorious Service Certificate
Professor Minh Hoai Nguyen, Google Faculty Research Awards
Distinguished Professor Scott Smolka, SUNY Distinguished Professorship
Fusheng Wang, EDBT Test of Time Award
 
-Samantha Mercado