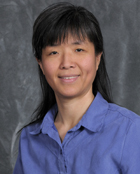 Computer Science Department
Old Office: 1433 Computer Science
New CS Building Location: 237 Computer Science
Stony Brook University
Stony Brook, NY 11794-2424
Email:
liu

[at]

cs.stonybrook.edu
Interests
Programming Languages, Compilers, Software Systems, Program Optimization, Program Analysis and Transformation, Reactive Systems, Database Systems, Algorithm Design, Distributed Systems, and Security.
Biography
Y. Annie Liu received her Ph.D. in Computer Science from Cornell University in 1996.
Research
Incrementalization for Efficiency Improvement
The goal has been to bring all techniques together in order to develop general systematic approaches and supporting tools for improving the efficiency of computations and facilitating the assurance of their correctness. This has involved exploring program analysis and transformation techniques and domain-specific knowledge for incrementalization.
Awards
Annie Liu is a recipient of the Chancellors Award for Excellence in Scholarship & Creative Activities in 2010 and ACM awards in 1999.
Teaching Summary
SE/ISE 305, CSE 307, CSE/ISE 308, CSE/ISE 315, CSE 352, CSE/MAT 373, CSE 391, CSE 393, CSE 526, CSE 532, CSE 535, CSE 591, CSE 592, CSE 614, CSE 626, CSE 645, CSE 667, CSE 675, CSE 690, ITS 102,