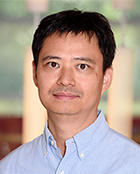 SUNY Empire Innovation Professor
Department of Computer Science
Room 147
Stony Brook, NY 11794-2424
Email
haibin.ling

[at]

stonybrook.edu
Interests
Computer Vision, Medical Image Analysis, Augmented Reality and Human-Computer Interaction.
Research
Haibin Ling's research is in many vision topics and applications, with strong connections to biomedical image analysis, artificial intelligence, human computer interaction and augmented reality. His research goal is to endow machines with the abilities to see and understand the visual world, and to interact with it. For this purpose, he has devoted efforts to a wide range of topics such as visual tracking, recognition, detection, image enhancement, etc.
Awards
Haibin Ling received the Best Student Paper Award of ACM UIST in 2003 and the NSF CAREER Award in 2014.