Shutterstock Distinguished Lecture Series (DLS)
The Department of Computer Science is pleased to announce that Shutterstock is now the sponsor of the Computer Science Distinguished Lecture Series (DLS). Thank you Shutterstock!
The Distinguished Lecture Series (DLS)  is an ongoing program in the Department of Computer Science where distinguished leaders of the field are invited to present lectures to the computing community in the university. Since it began in Fall 2000, DLS has been very successful in inviting many prominent computer scientists to campus. 
Everyone is welcome to join us for this year's series: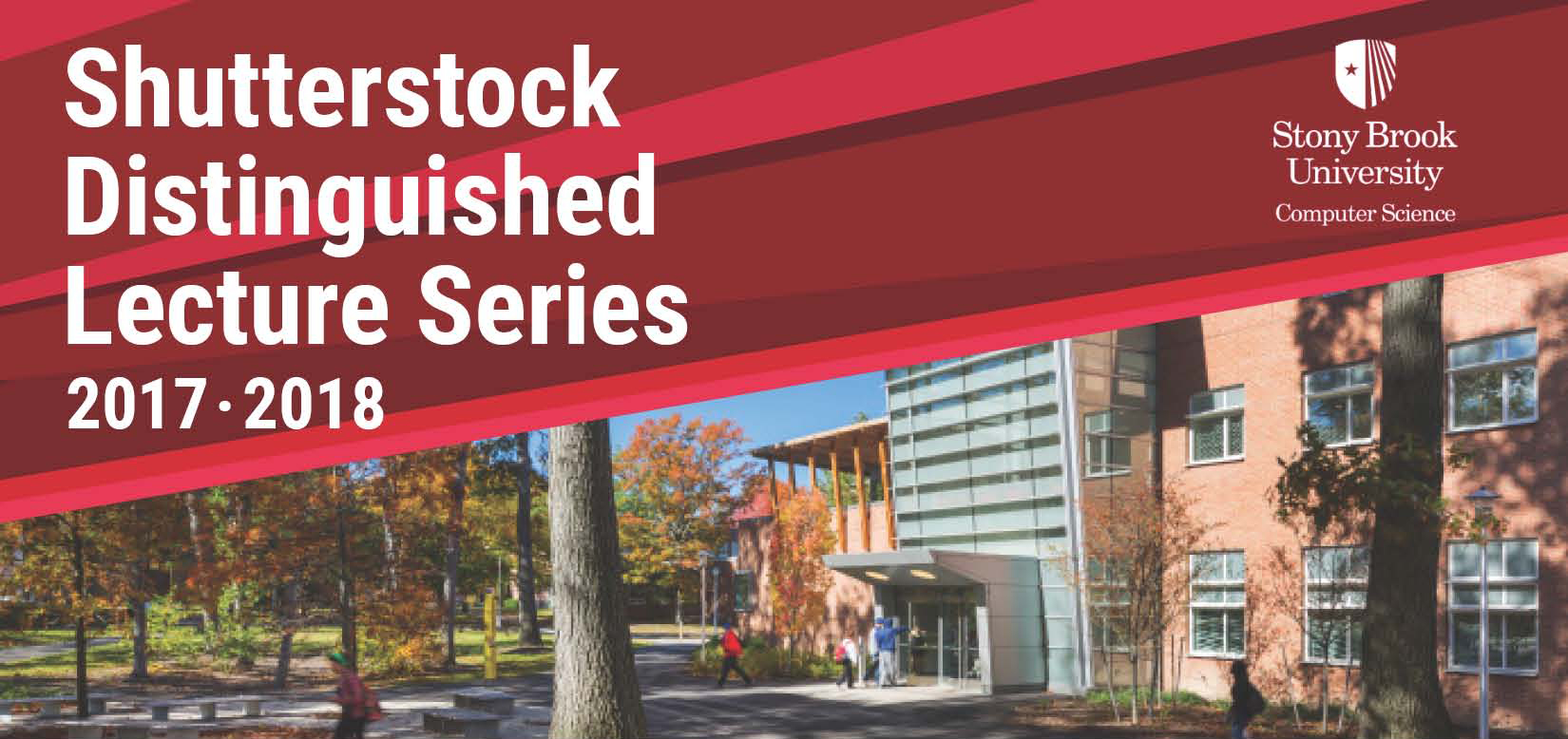 Nov. 1 2017
Steven Salzberg, 
Johns Hopkins University
Transcriptome Assembly:
Computational Challenges of Next-Generation Sequence Data
---
Nov. 17 2017
Nir Shavit, 
Massachusetts Institute of Technology
High Throughput Connectomics:
The Making of a Brain Scope
---
Feb. 9 2018
Noah Smith, 
University of Washington
New Applications of Natural Language Processing:
Measuring Ideas and Machine-in-the-Loop Creativity
---
Mar. 2 2018
Lydia Kavraki, 
Rice University
From Robots to Biomolecules:
Computing Meets the Physical World
---
Apr. 20 2018
Jon Oringer, 
Shutterstock
The Art, Science, and Commerce of Image Search
 
---
May. 4 2018
Tuomas Sandholm, 
Carnegie Mellon University
Super-Human AI for Strategic Reasoning:
Libratus Beats Top Pros in Heads-Up No-Limit Texas Hold'em
---

Past DLS
For any questions, please contact Professor jgao
cs.stonybrook.edu (Jie Gao).